SR Preview: Round 14, Part Two
Fri, 26 May 2017 00:45
IN THE SUPER RUGBY SPOTLIGHT: It was a dramatic week already, and the first game has not even kicked off.
Former All Black coach John Mitchell has been appointed Director of Rugby at the struggling Bulls, although Nollis Marais will remain head coach.
There is also report that the Cheetahs could lose their coach, Franco Smith, if they get relegated.
Smith, when approached by rugby365, again took a vow of silence - saying that it is inappropriate to 'speculate' until a decision has been taken about which teams will be axed from Super Rugby.
Amidst all this drama, the competition enters the final stages before the June international break.
The table-topping Crusaders have a relatively 'easy' game against the Rebels - before a more testing finish to the season that will see them take on teams like the Highlanders and the Hurricanes again.
Their nearest rivals for the coveted top spot, the Lions, have an easier run-in.
The top South African side, only three points behind the Crusaders, have the Southern Kings this weekend, followed by the Sunwolves and Sharks.
The Crusaders are on 54 points and the Lions 51, while the Hurricanes and Chiefs, both with a game in hand, remain within striking distance on 43.
In the much-criticised competition format, which guarantees the four conference winners fill the top four places with home advantage in the play-offs, the Stormers (30 points) and Brumbies (23) are ranked third and fourth with the Hurricanes and Chiefs fifth and sixth.
In Part Two of the preview we look at the Saturday and Sunday matches!
Saturday, May 27:
Sunwolves v Cheetahs
(Prince Chichibu Memorial Stadium, Tokyo - Kick-off: 14.15; 07.15 SA time; 05.15 GMT)
The Cheetahs, without regular captain Francois Venter, will look to end a nine-match losing streak against the Sunwolves, who themselves are on a five-match losing run.
One of the Cheetahs two wins this season were against the Sunwolves back in March, while the Sunwolves' only victory was last month.
Cheetahs coach Franco Smith, who was evasive when asked about his future - reports have linked him to a departure from the Cheetahs if they get relegated - said his team is far better than their lowly 16th place on the standings.
"If we look back at how many close defeats there were, we could have been far better placed," Smith told rugby365.
"It is disappointing, that is why every game is vital and a 'must win' for us.
"We are determined to a win on tour and then finish strong in our last two games." he added.
Sunwolves captain Harumichi Tatekawa sang from a similar hymnbook as the Cheetahs coach, saying there were many games that they could have won.
"We have to fix a couple things to turn it around," he said of their losing streak.
He said they will play their expansive game and don't want to get into an arm-wrestle with the Cheetahs.
"Since the game time is during the warmest part of the day and the Cheetahs won't be familiar with the humidity, we will have a big advantage," Tatekawa said.
Previous results:
2017: Cheetahs won 38-31, Bloemfontein
2016: Cheetahs won 92-17, Bloemfontein
2016: Cheetahs won 32-31, Singapore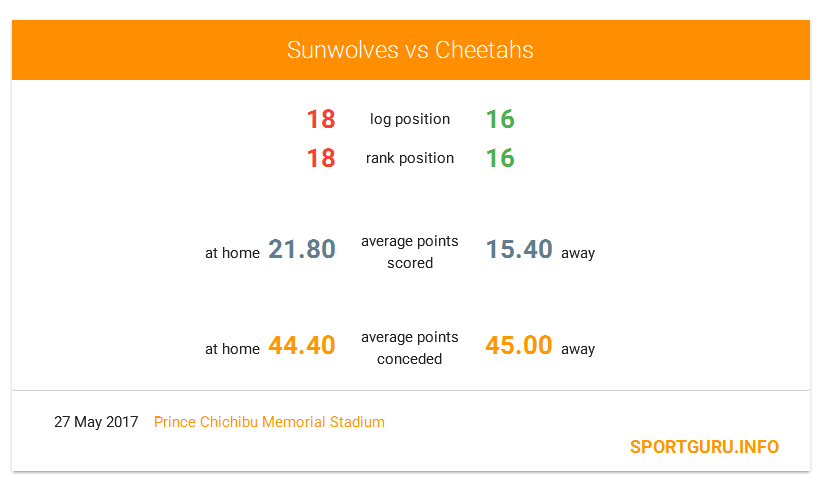 Prediction: The Cheetahs have won all three previous meetings between these sides; a 75-point drubbing in Round 8 last season bookended by wins of no greater than seven points. The Sunwolves have conceded an average of 40 points per game across their last five fixtures, five points per game more than they had conceded in their five games prior. The Cheetahs have lost their last nine games in succession, their longest ever losing-streak within a single season; the last and only time they lost more games in a row was a 12-game stretch from 2008 to 2009. The Cheetahs reclaimed their title as the most accurate goal kickers after 13 rounds, boasting an 87 percent success rate, though their 15.4 kicks in general play per game this season are fewer than any other team. Kenki Fukuoka beat seven defenders in Round 13, the equal most of any player at the weekend, to take his seasonal tally to 29. The heat and humidity could catch the Cheetahs, who are coming from a cold and wet New Zealand, in the hop. The Sunwolves do have an advantage, but we suspect the Cheetahs will sneak a rare win - by five points.
Teams:
Sunwolves: 15 Kotaro Matsushima, 14 Takaaki Nakazuru, 13 Derek Carpenter, 12 Harumichi Tatekawa, 11 Shota Emi, 10 Yu Tamura, 9 Fumiaki Tanaka, 8 Rahboni Warren Vosayaco, 7 Shuhei Matsuhashi, 6 Malgene Ilaua, 5 Sam Wykes, 4 Kotaro Yatabe, 3 Takuma Asahara, 2 Yusuke Niwai, 1 Keita Inagaki.
Replacements: 16 Takeshi Hino, 17 Koki Yamamoto, 18 Yasuo Yamaji, 19 Hitoshi Ono, 20 Shokei Kin, 21 Keisuke Uchida, 22 Jumpei Ogura, 23 William Tupou.
Cheetahs: 15 Clayton Blommetjies, 14 Sergeal Petersen, 13 William Small-Smith, 12 Clinton Swart, 11 Raymond Rhule, 10 Niel Marais, 9 Shaun Venter, 8 Henco Venter, 7 Teboho Mohoje, 6 Uzair Cassiem, 5 Carl Wegner, 4 Armandt Koster, 3 Johan Coetzee, 2 Torsten van Jaarsveld (captain), 1 Retshegofaditswe Nche.
Replacements: 16 Elandré Huggett, 17 Charles Marais, 18 Tom Botha, 19 Francois Uys, 20 Niell Jordaan, 21 Junior Pokomela, 22 Tian Meyer, 23 Fred Zeilinga.
Referee: Will Houston (Australia)
Assistant referees: Shuhei Kubo (Japan), Akihisa Aso (Japan)
TMO: Minoru Fuji (Japan)
Highlanders v Waratahs
(Forsyth Barr Stadium, Dunedin - Kick-off: 19.35; 17.35 AEST; 07.35 GMT)
The Waratahs have made the trek across the Tasman Sea to face off against the Highlanders, coming off a win against the Rebels in Sydney last week.
Coach Daryl Gibson has decided to keep the winning formula from last week by naming an unchanged 23 for the must win clash - as the Tahs look to keep their play-off hopes alive.
Gibson said that while Israel Folau, Bernard Foley and captain Michael Hooper were outstanding last Sunday, all the players, including those who came on from the bench, contributed to the win.
"The whole side needs to be performing, and they did last week, so we'll go into the match against the Highlanders with the same 23," he said.
"We achieved our objective last week, but that's just the first step on the road ahead of us, which we know is a tough one.
"We'll continue to keep things simple and we've shown that's when we're at our best."
Ben Smith will make his return to the Highlanders against the Waratahs.
Smith will play his 127th game for the franchise, tying the record with former hooker and captain Anton Oliver.
''We have had a bit of a chat about it and obviously, that is in our preparation this week," hooker Ash Dixon told the Otago Daily Times.
"Ben is world-class, isn't he, and he epitomises what being a Highlander is.
"We will do something special for him and perform for him.''
Recent results:
2016: Highlanders won 30-26, Sydney
2015: Highlanders won 35-17, Sydney (semifinal)
2015: Highlanders won 26-19, Dunedin
2014: Waratahs won 44-16, Sydney
2012: Highlanders won 18-17, Dunedin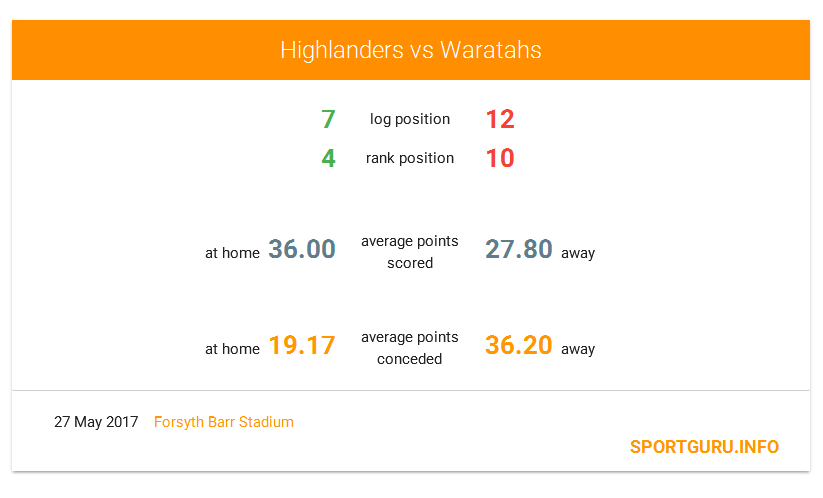 Prediction: The Highlanders have won each of their last three games against the Waratahs after winning just three of their previous nine clashes. The Waratahs haven't won at Dunedin since Round 3, 2008, losing three consecutive games to the Highlanders since that fixture. The Highlanders have won 15 of their last 18 games at home, including each of their last four, only once losing to a team from outside New Zealand in that period (Sharks, April 2016). The Highlanders have won 10 of their last 11 games against Australian opposition, including each of their last five; never before in Super Rugby history have they won more such fixtures in succession. The Waratahs have won on just two of their last 14 excursions to New Zealand. The Waratahs are unlikely to end the Highlanders' victory run - which will extend to a record ninth consecutive triumph - winning by at least 15 points.
Teams:
Highlanders: 15 Ben Smith (co-captain), 14 Waisake Naholo, 13 Malakai Fekitoa, 12 Richard Buckman, 11 Tevita Li, 10 Marty Banks, 9 Aaron Smith, 8 Luke Whitelock, 7 Dillon Hunt, 6 Elliot Dixon, 5 Tom Franklin, 4 Alex Ainley, 3 Siate Tokolahi, 2 Liam Coltman, 1 Aki Seiuli.
Replacements: 16 Ash Dixon (co-captain), 17 Daniel Lienert-Brown, 18 Siosuia Halanukonuka, 19 Joe Wheeler, 20 Gareth Evans, 21 Kayne Hammington, 22 Lima Sopoaga, 23 Rob Thompson.
Waratahs: 15 Israel Folau, 14 Taqele Naiyaravoro, 13 Rob Horne, 12 David Horwitz, 11 Cam Clark, 10 Bernard Foley, 10 Bernard Foley, 9 Nick Phipps, 8 Michael Wells, 7 Michael Hooper (captain), 6 Ned Hanigan, 5 Will Skelton, 4 Dean Mumm, 3 Sekope Kepu, 2 Tolu Latu, 1 Tom Robertson.
Replacements: 16 Damien Fitzpatrick, 17 Paddy Ryan, 18 Angus Ta'avao, 19 David McDuling, 20 Jed Holloway, 21 Jake Gordon, 22 Bryce Hegarty, 23 Irae Simone.
Referee: Ben O'Keeffe (New Zealand)
Assistant referees: James Doleman (New Zealand), Cam Stone (New Zealand)
TMO: Shane McDermott (New Zealand)
Rebels v Crusaders
(AAMI Park, Melbourne - Kick-off: 19.45; 21.45 NZ time; 09.45 GMT)
The unbeaten Crusaders have shut out Super Rugby title talk as they grapple with an arduous schedule that has them playing in their fourth country in as many weeks on Saturday.
The competition leaders are in Melbourne to play the struggling Rebels at the end of a month that has taken them from South Africa, New Zealand, Fiji and now Australia.
With an 11-point lead in the tough New Zealand conference, only three games left in the regular season, the Crusaders have reason to feel confident.
Victory over the Rebels, who have lost all but one game this year, would be win No.13, equalling the record held by the 2002 Crusaders - who featured current coach Scott Robertson.
But despite dominating the competition, the seven-time champions insist they are not yet thinking about the play-offs.
"If we are already in them, tell me where and when. Who are we playing?" assistant coach Brad Mooar said, when it was suggested the Crusaders will cruise into the knock-out phase.
"There is a lot more footy to go yet.
"We are totally focused on the Rebels this week."
The Rebels will be looking to recapture their form of 2015 when they beat the Crusaders 20-10 in New Zealand.
Recent results:
2016: Crusaders won 85-26, Christchurch
2015: Rebels won 20-10, Christchurch
2014: Crusaders won 25-19, Melbourne
2013: Crusaders won 30-26, Christchurch
2012: Rebels won 28-19, Melbourne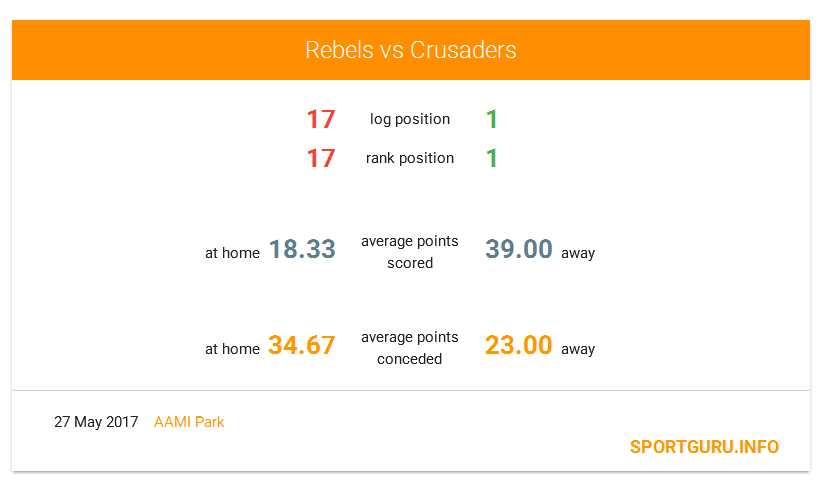 Prediction: The Crusaders have won three of their last four games against the Rebels, including an 85-26 effort in their last meeting. Only one of the Rebels' last seven games at home against teams from outside Australia has been decided by a margin of less than 22 points . The Crusaders have emerged victorious from each of their last five visits to Australia; at no point in Super Rugby history have they enjoyed a longer streak in the nation. The Rebels have scored 53 percent of their tries after holding the ball for more than three phases this season, the highest percentage of any team in the competition. David Kaetau Havili has scored six tries and assisted three more in his last five games away from home, crossing at least once in each of those fixtures. Put your house on it, the Crusaders will win - by at least 20.
Teams:
Melbourne Rebels: 15 Ben Volavola, 14 Sefa Naivalu, 13 Tom English, 12 Reece Hodge, 11 Marika Koroibete, 10 Jackson Garden-Bachop, 9 Nic Stirzaker (captain), 8 Amanaki Mafi, 7 Colby Fainga'a, 6 Sean McMahon, 5 Lopeti Timani, 4 Steve Cummins, 3 Tyrel Lomax, 2 James Hanson, 1 Toby Smith.
Replacements: 16 Siliva , 17 Fereti Sa'aga, 18 Laurie Weeks, 19 Culum Retallick, 20 Hugh Sinclair, 21 Ben Meehan, 22 Mitch Inman, 23 Jonah Placid.
Crusaders: David Havili, 14 Israel Dagg, 13 Seta Tamanivalu, 12 Tim Bateman, 11 Manasa Mataele, 10 Richie Mo'unga, 9 Bryn Hall, 8 Jordan Taufua, 7 Peter Samu, 6 Heiden Bedwell-Curtis, 5 Samuel Whitelock (captain), 4 Quinten Strange, 3 Michael Alaalatoa, 2 Ben Funnell, 1 Wyatt Crockett.
Replacements: 16 Andrew Makalio, 17 Joe Moody, 18 Oliver Jager, 19 Luke Romano, 20 Jed Brown, 21 Mitchell Drummond, 22 Mitchell Hunt, 23 George Bridge.
Referee: Glen Jackson (New Zealand)
Assistant referees: Paul Williams (New Zealand), Damon Murphy (Australia)
TMO: George Ayoub (Australia)
Bulls v Hurricanes
(Loftus Versfeld, Pretoria - Kick-off: 15.05; 13.05 GMT; 01.05 NZ time, Sunday, May 28)
The biggest story of the week is that former All Black coach John Mitchell will become the Director of Rugby at the Bulls' home ground, Loftus Versfeld.
However, the announcement will have no impact - apart from maybe a psychological boost for the embattled Bulls - this weekend.
Mitchell will not start in his position till July, although he may provide some advice - since he is in town this week.
The Bulls will still have to produced a marked improvement in form if they are to upstage the defending champions.
Bulls coach Nollis Marais spoke about the pace of the Hurricanes' game and the need to avoid giving them too many opportunities in general play.
"You have to be accurate in your set pieces," Marais said.
"If you are not accurate and you turn over ball, it will be a long day for you."
Captain Adriaan Strauss also spoke of the need to cut down the errors and avoid gifting the opposition turnover possession - because any New Zealand team will punish you.
"It is a massive game and we will not lack motivation," Strauss said.
If the Bulls had spies at Hurricanes training this week, the feedback would not have bee good news.
Jordie Barrett, back at fullback, showed that he can utilise the high altitude to boot the ball a proverbial mile.
"One of the scary things I saw at training was Jordie Barrett kick three goals from, probably, closer to 70 metres than 65," Hurricanes head coach Chris Boyd said.
"That was ridiculous to watch but, to be honest, it's kind of a waste of time when we'll continue with our philosophy of not kicking a lot of goals. But, gee, he kicked the ball a long way."
Recent results:
2015: Hurricanes won 17-13, Pretoria
2014: Hurricanes won 25-20, Wellington
2013: Bulls won 48-14, Pretoria
2011: Bulls won 26-14, Napier
2010: Bulls won 19-18, Pretoria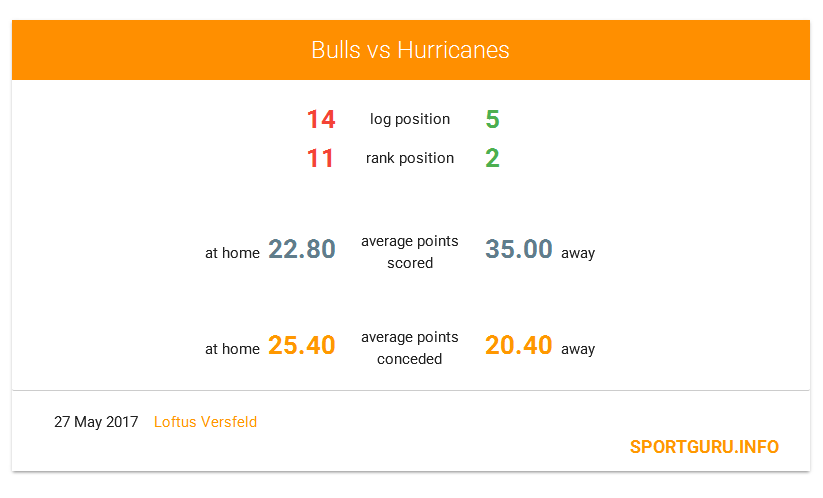 Prediction: The Hurricanes have won their last two games against the Bulls, snapping a four-game losing streak against them spanning 2009 to 2013. The Hurricanes have won the opening game of each of their last two South African tours, though the last time they opened a South African tour against the Bulls ended in a 14-48 loss. The Bulls have won just one of their last 11 games against New Zealand opposition. The Hurricanes have gained 555 metres per game this season, the most of any team in the competition and one of only two teams to average more than half a kilometre per match (also Crusaders). Ruan Steenkamp made 16 tackles in Round 13, the equal most of any player at the weekend and the second most of any Bulls player in any game this season Jacques Potgieter, 18 in Round One). Maybe the Bulls will be buoyed enough by John Mitchell's arrival to put up more than just token resistance, but the Hurricanes should still win - by eight points.
Teams:
Bulls: 15 Warrick Gelant, 14 Duncan Matthews, 13 Jan Serfontein, 12 Burger Odendaal, 11 Jesse Kriel, 10 Tian Schoeman, 9 Rudy Paige, 8 Hanro Liebenberg, 7 Jannes Kirsten, 6 Ruan Steenkamp, 5 Lodewyk de Jager, 4 Jason Jenkins, 3 Jacobie Adriaanse, 2 Adriaan Strauss (captain), 1 Lizo Gqoboka.
Replacements: 16 Jaco Visagie, 17 Pierre Schoeman, 18 Conraad van Vuuren, 19 Abongile Nonkontwana, 20 Nic de Jager, 21 Ivan van Zyl, 22 Tony Jantjies, 23 Ulrich Beyers.
Hurricanes: 15 Jordie Barrett, 14 Wes Goosen, 13 Vince Aso, 12 Ngani Laumape, 11 Julian Savea, 10 Beauden Barrett, 9 Thomas Perenara (captain), 8 Brad Shields, 7 Ardie Savea, 6 Vaea Fifita, 5 Sam Lousi, 4 Mark Abbott, 3 Jeffery Toomaga-Allen, 2 Ricky Riccitelli, 1 Loni Uhila.
Replacements: 16 Leni Apisai, 17 Chris Eves, 18 Ben May, 19 Reed Prinsep, 20 Callum Gibbins, 21 Te Toiroa Tahuriorangi, 22 Otere Black, 23 Ben Lam.
Referee: Egon Seconds (South Africa)
Assistant referees: Quinton Immelman (South Africa), Jaco Pretorius (South Africa)
TMO: Christie du Preez (South Africa)
Sharks v Stormers
(Kings Park, Durban - Kick-off: 17.15; 15.15 GMT)
The Stormers are looking forward to the brutality of a South African derby after having faced four New Zealand teams in a row.
"It is always tough going to Kings Park and we know that we will be seriously tested over there, but our focus is on developing our own game," Stormers coach Robbie Fleck said.
"The team would like to build on our win against the Blues, so our focus this week has been on backing up on that performance," he said.
Sharks coach Robert du Preez stated the obvious when he said it is "an important match".
But he left no doubt what their mental approach will be.
"We are treating it as a Test Match," Du Preez said.
"It's time for our individuals to make the step-up and nothing but their best will be good enough.
"We are playing in front of our home crowd and we need to reward our loyal fans with a performance that all of us can be proud of."
The Stormers are ready for what is likely to be the most brutally physical derby of the weekend.
"We have put some good plans in place and we are looking forward to seeing how we go against them," Fleck said.
"I think last year they defended pretty well against us at Newlands and we had our opportunities, but we didn't execute it that well.
"We let them in with a soft try at the end.
"They were deserved winners last year. We are going to have to really be up for this one, it is a tough game and I've certainly felt that apart from their physicality they are looking pretty well conditioned, so they can go for the 80 minutes, which means it is going to be a good battle."
Recent results:
2016: Sharks won 18-13, Cape Town
2015: Sharks won 34-12, Durban
2015: Stormers won 29-13, Cape Town
2014: Sharks won 34-10, Cape Town
2014: Stormers won 21-19, Durban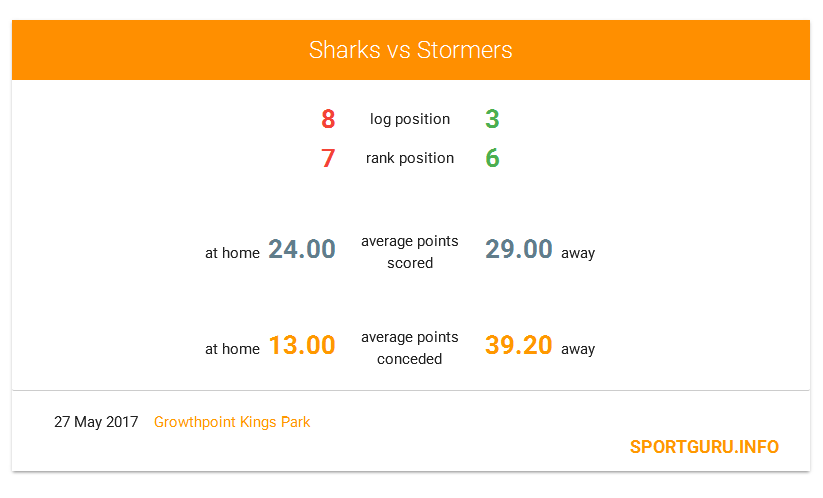 Prediction: The Sharks have won six of their last nine games against the Stormers, though three of the last five iterations of this fixture have been won by the away team on the day. The Sharks are undefeated in their last nine games on home turf, having conceded an average of just 13 points per game across that period. he Stormers have won five of their last six South African derbies, though they dropped a five-game winning streak with a 29-16 loss to the Lions in their last such fixture. The Sharks have conceded only nine tries across the opening 20 minutes of each half combined so far this season, the second fewest of any team in the competition (Hurricanes, Seven). SP Marais has made a competition-high 25 offloads this season, contributing two or more offloads in six of his last eight appearances. It will be close and intriguing, even entertaining. We feel the Stormers have just too much class and should win by a converted try.
Teams:
Sharks: 15 Lwazi Mvovo, 14 Jacobus van Wyk, 13 Lukhanyo Am, 12 Johan Deysel, 11 Sibusiso Nkosi, 10 Garth April, 9 Jacobus Reinach, 8 Daniel du Preez, 7 Jean-Luc du Preez, 6 Philip van der Walt (captain), 5 Stephan Lewies, 4 Ruan Botha, 3 Coenraad Oosthuizen, 2 Mahlatse Ralepelle, 1 Thomas du Toit.
Replacements: 16 Franco Marais, 17 Tendai Mtawarira, 18 Lourens Adriaanse, 19 Etienne Oosthuizen, 20 Lubabalo Mtembu, 21 Michael Claassens, 22 Benhard Janse van Rensburg, 23 Odwa Ndungane.
Stormers: 15 Sarel Marais, 14 Cheslin Kolbe, 13 EW Viljoen, 12 Damian de Allende, 11 Dillyn Leyds, 10 Kurt Coleman, 9 Jano Vermaak, 8 Nizaam Carr, 7 Siya Kolisi (captain), 6 Kobus van Dyk, 5 Pieter-Steph du Toit, 4 Eben Etzebeth, 3 Frans Malherbe, 2 Bongi Mbonambi, 1 Oliver Kebble.
Replacements: 16 Ramone Samuels, 17 Alister Vermaak, 18 Wilco Louw, 19 Chris van Zyl, 20 Sikhumbuzo Notshe, 21 Dewaldt Duvenage, 22 Juan de Jongh, 23 Seabelo Senatla.
Referee: Marius van der Westhuizen (South Africa)
Assistant referees: AJ Jacobs (South Africa), Archie Sehlako (South Africa)
TMO: Marius Jonker (South Africa)
Jaguares v Brumbies
(Velez Sarsfield, Buenos Aires - Kick-off: 18.40; 21.40; 07.40, Sunday, May 28 AEST)
The buzzword was "resilience" this week, after the Brumbies edged the Southern Kings in Port Elizabeth last week.
And the Australian conference leaders will require more of that, in fact bucket loads off resilience when they face the Jaguares in Buenos Aires on Saturday.
Brumbies assistant coach Dan McKellar admitted the Argentinian franchise will be a massive step up.
"That passage where we had a couple of scrums on our line and we had to defend for long periods of time, that was a challenging point, and we thought as coaches that if we could defend our way out of that passage then we would win the game and we did so," McKellar said.
"That's just attitude and the boys had that in bucket loads on the weekend, a really good attitude and we managed to defend those scrums on our line, and plenty of phases after it, and then work our way down field."
Denying the opposition at one end was one thing, but finding a way through stoic defensive lines is another.
"It's about identifying the space," McKellar commented.
"Whether that's with ball in hand or whether that's in behind.
"The other part of it is to make sure you have a good chase and Banksy [Tom Banks] and Aidan [Toua] did that well. I think with ball in hand you want to find the space whether that be through the defensive line, or behind."
The next challenge for the Brumbies is getting over any jet-lag that may accompany them on a draining round-the-world crusade that has taken in stops at Sydney, Johannesburg, Port Elizabeth, Sao Paolo and now Buenos Aires. But, buoyed by the win last weekend, the Brumbies are in confident mood.
"The win will give us confidence and confidence gives you energy," McKellar said.
"We spoke about it and the players don't want to get complacent on the back of a good win because we need to do better, but we should get confidence and energy off the back of the win and spending time together.
"The Strength and Conditioning Staff and the Medical Staff have done a good job with getting the guys fresh after long travel, so we don't see it as an issue."
The Jaguares will no doubt provide their own set of unique challenges.
"There will be physicality at the set piece," he revealed.
"They have a good scrum and a good maul and are a physical team. It's a pretty confronting place to play and the crowd's generally vocal and in your face as well.
"But that's rugby isn't it, that's the beauty of playing Super Rugby and travelling around the World, it's an experience and it's something you need to embrace."
Previous results:
These teams have never met before.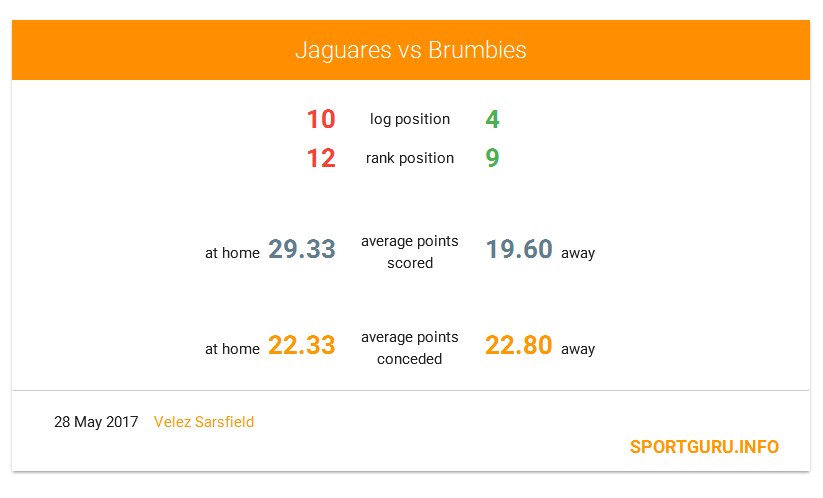 Prediction: This will be the first-ever meeting between these teams, though the Jaguares have won one of their previous two games against Australian teams with those two fixtures seeing a total of just 52 points scored. The Jaguares average 29 points scored per game at home in their Super Rugby history, seven points per game more than they average when playing away from home. The Brumbies search for back-to-back wins outside Australia for the first time since the 2015 post-season, they average just 15 points scored per game across their last eight fixtures outside their home nation. The Jaguares have made 16.3 offloads per game this campaign, more than any other team in the competition and nearly twice as many as the last-ranked Brumbies (8.5). Joe Powell has contributed four try assists in his last four games away from home, as well as crossing for one try of his own in that span. The Jaguares will certainly test the Brumbies' resolve and we think the home team will win by 12 points.
Teams:
Jaguares: 15 Joaquin Tuculet, 14 Ramiro Moyano, 13 Matias Orlando, 12 Jeronimo De La Fuente, 11 Bautista Ezcurra, 10 Nicolas Sanchez, 9 Martin Landajo, 8 Leonardo Senatore, 7 Juan Manuel Leguizamon, 6 Tomas Lezana, 5 Tomas Lavanini, 4 Matias Alemanno, 3 Ramiro Herrera, 2 Agustin Creevy, 1 Lucas Noguera Paz.
Replacements: 16 Julian Montoya, 17 Santiago Garcia Botta, 18 Enrique Pieretto Heilan, 19 Guido Petti Pagadizaval, 20 Javier Ortega Desio, 21 Gonzalo Bertranou, 22 Juan Martin Hernández, 23 Matias Moroni.
Brumbies: 15 Thomas Banks, 14 Henry Speight, 13 Tevita Kuridrani, 12 Kyle Godwin, 11 Aidan Toua, 10 Wharenui Hawera, 9 Joe Powell, 8 Jordan Smiler, 7 Chris Alcock, 6 Scott Fardy, 5 Sam Carter, 4 Rory Arnold, 3 Allan Alaalatoa, 2 Josh Mann-Rea, 1 Ben Alexander.
Replacements: 16 Robbie Abel, 17 Nic Mayhew, 18 Les Makin, 19 Blake Enever, 20 Jarrad Butler, 21 De Wet Roos, 22 Andrew Smith, 23 Andy Muirhead.
Referee: Mike Fraser (New Zealand)
Assistant referees: Federico Anselmi (Argentina), Jose Covasi (Argentina)
TMO: Santiago Borsani (Argentina)
Sunday, May 28:
Lions v Southern Kings
(Ellis Park, Johannesburg - Kick-off: 14.30; 12.30 GMT)
The Lions would like to make it a special occasion to mark the appointment of Warren Whiteley as the new Springboks captain.
It is a rare Sunday match for South African teams.
"It's not ideal," said coach Johan Ackermann - whose Lions are looking to extend an 11-match winning streak at their Ellis Park fortress in Johannesburg.
"The reality is we're in an era of professional sport and if the competition dictates that we play on a Sunday then we will do so."
With 13 players in the Springbok and South African A teams, the Lions - on paper at least - appear the better equipped of the sides.
However, the Kings this year have shown they are a team capable of some giant killing acts.
The spotlight will also be on players like Ruan Combrinck and Jaco Kriel, who recently returned from injury.
Combrinck played a starring role in the demolition of the Bulls last week, but Kriel is set for his first outing.
The Kings are under no illusion as to the task awaiting them in Johannesburg.
Exciting backline player Malcolm Jaer said he was excited about the looming Lions showdown.
"The Lions are one of the best teams to test yourself against," he said.
"It will be a big South African derby and it is the right time for me to come back and to make my mark.
"We are all looking to prove something after what happened against the Brumbies last week.
"We want to play attractive running rugby against the Lions like they do against other teams."
Previous results:
2017: Lions won 42-19, Port Elizabeth
2016: Lions won 57-21, Johannesburg
2016: Lions won 45-10, Port Elizabeth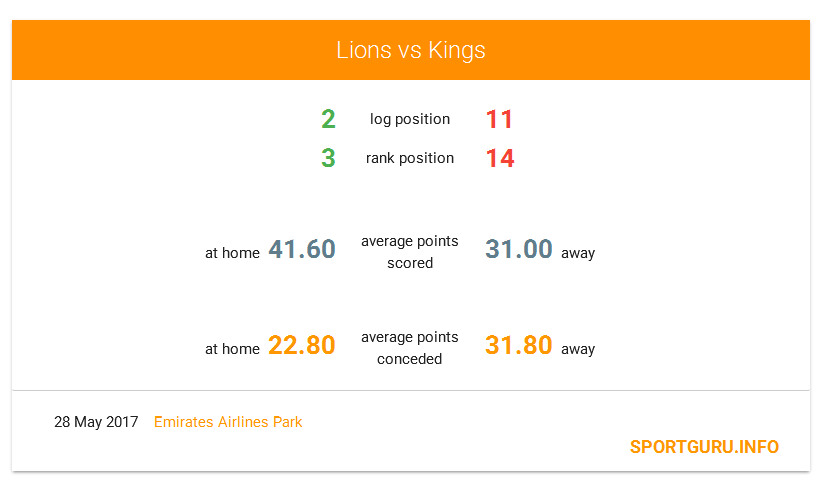 Prediction: The Lions have won each of the previous three encounters between these teams, scoring an average of 48 points per game across that span. The Lions have won nine games on the bounce; the last and only time any South African team has won more games in succession was a 12-game winning streak for the Bulls across the 2009 and 2010 campaigns. The Kings are yet to win their first away game against South African opposition, having lost each of their nine such games by an average margin of 26 points. The Kings have won 9.4 turnovers per game so far this campaign, the most of any team in the competition and more than two per game more than the Lions (7.3). Franco Mostert has stolen 12 line-outs so far this campaign, twice as many as any other player in the competition. If the Lions are anywhere near as clinical as they were in the first half against the Bulls last week, the Southern Kings will suffer a big defeat. The Lions should win by 15 points or more.
Teams:
Lions: TBC
Southern Kings: TBC
Referee: Jaco Peyper (South Africa)
Assistant referees: Egon Seconds (South Africa), Ben Crouse (South Africa)
TMO: Christie du Preez (South Africa)
Compiled by Jan de Koning
@king365ed
@rugby365com
* Statistics provided by Opta Sports & sportguru.info