Thu 29 Jun 2017 | 08:15
SR PREVIEW: ROUND 15, PART TWO
SHARE
It may not get as much of the spotlight as the All Blacks versus B&I Lions Test, but there won't be a shortage of drama.
In three of the weekend's four matches have a team in desperate need of a win – to cement their places in the play-offs.
It starts on Friday when the Sharks, chasing the wildcard play-of spot in the African conferences, hosts the Bulls in Durban.
Later on Friday the Jaguares host the Southern Kings in Buenos Aires – a game between two teams playing for pride.
The two Saturday matches start with the Cheetahs, with the cloud of being axed from Super Rugby hovering over them, hosting a Stormers team looking to bounce back from a bad loss and cementing third place in the standings.
Then the Lions, the only team capable of catching the table-topping Crusaders, host the bottom-placed Sunwolves.
In Part Two of the preview we look at this weekend's matches!
Friday, June 30:
Sharks v Bulls
(King Park, Durban – Kick-off: 19.00; 17.00 GMT)
The Shark, currently eight on the standings, will travel in the quarterfinals.
The questions is whether they travel to New Zealand or Johannesburg.
If the Sharks (with a game in hand) overtake the Highlanders in seventh place, the are likely to face the Lions in Johannesburg – unless the unthinkable happens and the Crusaders lose to the Hurricanes in their final match of the season.
Of course, if the Crusaders drop points and the Lions go top, the Sharks will want to finish eighth to travel to Johannesburg.
But for now they are looking to win, as the good money is on the Crusaders to remain unbeaten and that means seventh is the place that will benefit the Sharks.
Springbok prop Coenraad Oosthuizen said nothing less than their absolute best will be good enough against the Bulls.
"They are a very physical side," the veteran Sharks front row forward said.
"I don't think it's a true reflection of where they are in the Super Rugby log at the end of the day.
"They got key players and I would say some of the players they have featured in the SA side and SA 'A' side.
"You can never take them for granted. If they pitch up physically, they are going to be one of the strongest South African teams.
"A South African derby at the end of the day is still your toughest games."
Bulls captain Adriaan Strauss made it clear they will not be handing out any favours.
Now that the 'shackles' have been taken off, with play-off qualification beyond their reach, they will look to produce the much-vaunted expansive game coach Nollis Marais has talked about all season.
Strauss said the Bulls will be fired up for the clash against the Sharks.
"We still understand the responsibility to play good rugby and all of that, but to be honest the shackles are off and we need to go out there and express ourselves," the former Bok captain said.
"We must go and play with intent," he said, adding: "We've got three games left in the competition and we need to show that intent and that passion on the field."
Recent results:
2016: Sharks and Bulls drew 16-all, Pretoria
2015: Bulls won 17-10, Durban
2015: Bulls won 43-35, Pretoria
2014: Bulls won 23-19, Pretoria
2014: Sharks won 31-16, Durban
Prediction: The Bulls are undefeated in their last four games against the Sharks, though the two were inseparable when their most recent meeting ended in a 16-all draw. Each of the last five South African derbies have been won by the home team on the day, seeing an average winning margin of 20 points. The Bulls are yet to win away from home this season, enduring a six-game losing streak on the road; the last time they lost more in succession was a nine-game drought from 2013 to 2014 which saw them winless on the road throughout the whole of 2014. The Sharks have conceded only four tries when their opposition begins possession 50 metres or more out from the Sharks' tryline, the joint fewest in the competition (level with Chiefs). Jesse Kriel has scored three tries in his last five games, including two against South African opposition, which is more than he had scored in his 37 career Super Rugby games prior (two). The Bulls will give the Sharks a run and have a realistic chance of an upset. However, our money is on the Sharks to edge the men from Pretoria – by eight points.
Teams:
Sharks: 15 Curwin Bosch, 14 Odwa Ndungane, 13 Sibusiso Sithole, 12 Andre Esterhuizen, 11 Sibusiso Nkosi, 10 Garth April, 9 Cobus Reinach, 8 Daniel du Preez, 7 Lubabalo Mtembu, 6 Philip van der Walt (captain), 5 Stephan Lewies, 4 Etienne Oosthuizen, 3 Coenie Oosthuizen, 2 Franco Marais, 1 Thomas du Toit.
Replacements: 16 Chiliboy Ralepelle, 17 Juan Schoeman, 18 Lourens Adriaanse, 19 Hyron Andrews, 20 Jacques Vermeulen, 21 Michael Claassens, 22 Jeremy Ward, 23 Marius Louw.
Bulls: 15 Warrick Gelant, 14 Duncan Matthews, 13 Jesse Kriel, 12 Jan Serfontein, 11 Kefentse Mahlo, 10 Tony Jantjies, 9 Rudy Paige, 8 Nic de Jager, 7 Jannes Kirsten , 6 Ruan Steenkamp, 5 Rudolph Snyman , 4 Jason Jenkins, 3 Conraad van Vuuren, 2 Adriaan Strauss (captain), 1 Pierre Schoeman.
Replacements: 16 Jaco Visagie, 17 Lizo Gqoboka , 18 Johnroy Jenkins, 19 Shaun Adendorff, 20 Renaldo Bothma, 21 Andre Warner , 22 Burger Odendaal, 23 Tian Schoeman
Referee: Angus Gardner (Australia)
Assistant referees: Marius van der Westhuizen (South Africa), Quinton Immelman (South Africa)
TMO: Shaun Veldsman (South Africa)
Jaguares v Kings
(Estadio Jose Amalfitani, Buenos Aires – Kick-off: 20.05; 23.05 GMT; 01.05 SA time, Saturday, July 1)
The Jaguares have lost only one to South African opposition at home this year – to the Sharks back in April.
They have managed to upstage the Lions (the Johannesburg-based franchise's only loss of the season) and the Cheetahs in Buenos Aires.
They would like to add to that impressive record in what is their last home game of the season.
After Friday's outing they head Down Under, where they will face the Waratahs and Rebels, to conclude their 2017 campaign.
The Jaguares admit thy will face a foe far more formidable than what they were up against in Port Elizabeth in the opening round back in June.
Jaguares coach Raúl Perez said his team will look to finish the season with three wins on the trot.
"The Kings have improved a lot," said scrumhalf Martin Landajo – who is standing in as captain for Agustin Creevy.
"They have a different mentality and have obtained some very good results," he said of the Kings' four victories since their last encounter in February.
"They are a much more dangerous team than the one that we faced the first round and we are going to have a very tough game."
Kings coach Deon Davids said that after an arduous trip to Buenos Aires his team has focussed on recovery – with most of their training done back in South Africa.
Davids was stating the obvious when he said the Jaguares are always 'very formidable' in Buenos Aires.
"With the exception of a few players it is Argentina's national team," Davids said, adding: "We have to be up for it from the start.
"We will have to maintain the pressure and excitement for the entire 80 minutes."
Previous results:
2017: Jaguares won 39-26, Port Elizabeth
2016: Kings won 29-22, Port Elizabeth
2016: Jaguares won 73-27, Buenos Aires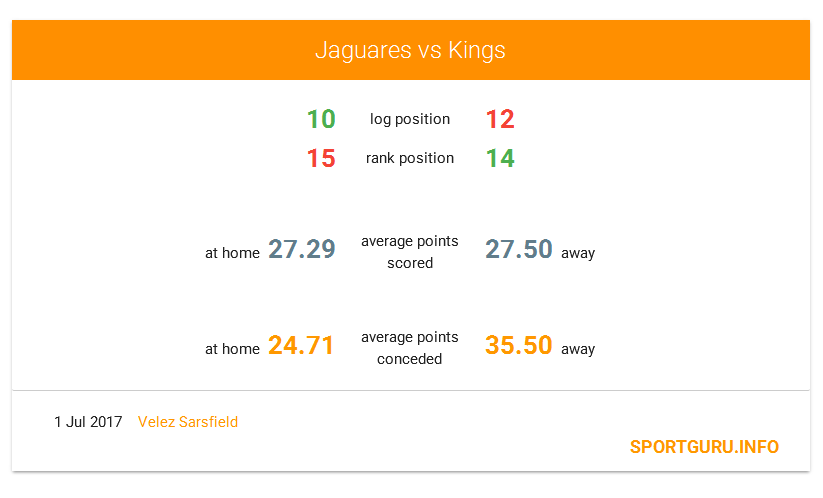 Prediction: The Jaguares have led at half-time in each of the previous three meetings between these teams, going on to win twice in that span. The Jaguares have lost their last two games on home soil, never before have they lost more in succession at home. The Kings won their last Friday fixture, beating the Waratahs 26-24 in Round Nine, though they were winless in their four Friday fixtures prior. The Jaguares have made an average of 127 carries per game this campaign, more than any other team and 20 more per game than the last-ranked Kings (121). No player has won more turnovers this campaign than Chris Cloete (26), who has won 10 more than Jaguares' best Agustin Creevy – who is not playing. The Kings do have a good chance of claiming their fifth win of the season. However, the travel factor – which has tripped up several teams – could claim another victim. The Jaguares to win by 12 points.
Teams:
Jaguares: 15 Joaquín Tuculet, 14 Matías Moroni, 13 Matías Orlando, 12 Bautista Ezcurra, 11 Emiliano Boffelli, 10 Nicolás Sánchez, 9 Martín Landajo (captain), 8 Leonardo Senatore, 7 Juan Manuel Leguizamón, 6 Pablo Matera, 5 Matías Alemanno, 4 Guido Petti, 3 Nahuel Tetaz Chaparro, 2 Julián Montoya, 1 Lucas Noguera.
Replacements: 16 Roberto Tejerizo, 17 Santiago García Botta, 18 Enrique Pieretto, 19 Ignacio Larrague, 20 Rodrigo Báez, 21 Gonzalo Bertranou, 22 Joaquín Díaz Bonilla, 23 Santiago Cordero.
Southern Kings: 15 Malcolm Jaer, 14 Wandile Mjekevu, 13 Berton Klaasen, 12 Luzuko Vulindlu, 11 Makazole Mapimpi, 10 Lionel Cronje (captain), 9 Louis Schreuder, 8 Andisa Ntsila, 7 Tyler Paul, 6 Chris Cloete, 5 Wilhelm van der Sluys, 4 Irne Herbst, 3 Ross Geldenhuys, 2 Michael Willemse, 1 Mzamo Majola.
Replacements: 16 Martin Bezuidenhout, 17 Schalk Ferreira, 18 Dayan van der Westhuizen, 19 Lubabalo Mtyanda, 20 Thembelani Bholi, 21 Stefan Ungerer, 22 Masixole Banda, 23 Yaw Penxe.
Referee: Jamie Nutbrown (New Zealand)
Assistant referees: Pali Deluca (Argentina), Damian Schneider (Argentina)
TMO: Santiago Borsani
Saturday, July 1:
Cheetahs v Stormers
(Free State stadium, Bloemfontein – Kick-off: 15.05; 13.05 GMT)
The Stormers have three weeks in which to get their momentum and intensity back, before the play-offs – in which they are likely to face New Zealand opposition.
And after last year's disastrous performance in the first round of the play-offs they are determined not to be caught short again.
Stormers coach Robbie Fleck said next three matches is about building towards the play-offs.
"We can't afford to start thinking about our confidence having been knocked [in the loss to the Sharks before the June break], or possible injuries," the Stormers coach said.
"We've got to get back and play extremely well," he said, adding that they are "excited" about the next few weeks.
"It is the first time we are back together as a group. We got to get those combinations working again and get that synergy going again.
"We've got to try certain things as well, going into this latter part of this competition.
"We've got a lot to gain in these next three games. It starts with the Cheetahs.
"They are a tough team to play in Bloemfontein. There are not many teams that put them away there."
He felt the Cheetahs will play with a lot of freedom, as there is no pressure on them.
"It will make them much more dangerous when they just play their natural attacking game. There is not much that can go wrong for them."
Cheetahs coach Franco Smith said they will look to maintain their defensive accuracy and the physical presence of the Stormers will be one of the biggest challenges.
In fact he pointed out that their worst game of the season was their last outing against the Stormers (a 10-53 loss at Newlands back in April).
"The five games against New Zealand opposition [since that loss] taught us about the intensity and tempo we will need to play at," he said.
Recent results:
2017: Stormers won 53-10, Cape Town
2016: Stormers won 31-24, Cape Town
2016: Stormers 20-10, Bloemfontein
2015: Stormers won 42-12, Cape Town
2015: Cheetahs won 25-17, Bloemfontein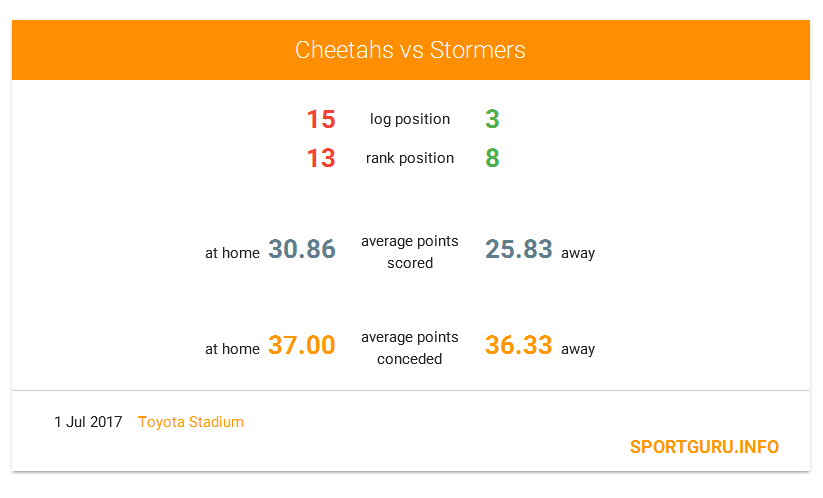 Prediction: The Stormers have won their last four games against the Cheetahs, restricting them to 12 points or fewer on three occasions in that span. The Cheetahs have trailed at half-time in only one of their last six home South African derbies, though they've gone on to win only two of those six. The Stormers have lost their last four games away from home, their longest drought since a stretch of seven road losses in 2014. The Stormers have conceded only two penalty goals in the second half of games so far this season, fewer than any other team in the competition. Niel Marais (18 from 20) is the only player in the competition to have had at least 20 attempts at goal and maintained a goal success rate of at least 90 percent. It is another gam where either team can win. However, we feel the Stormers will be charged up enough to sneak it by seven points.
Teams:
Cheetahs: 15 Clayton Blommetjies, 14 Sergeal Petersen, 13 Francois Venter (captain), 12 Clinton Swart, 11 Raymond Rhule, 10 Niel Marais, 9 Tian Meyer, 8 Niell Jordaan, 7 Uzair Cassiem, 6 Henco Venter, 5 Daniel Hugo, 4 Armandt Koster, 3 Johan Coetzee, 2 Elandre Huggett, 1 Retshegofaditswe Nche.
Replacements: 16 Joseph Dweba, 17 Charles Marais, 18 Tom Botha, 19 Justin Basson, 20 Teboho Mohoje, 21 Fred Zeilinga, 22 Ruan van Rensburg, 23 William Small-Smith.
Stormers: 15 Sarel Marais, 14 Cheslin Kolbe, 13 Juan de Jongh, 12 Shaun Treeby, 11 Dillyn Leyds, 10 Damian Willemse, 9 Jano Vermaak, 8 Nizaam Carr, 7 Kobus van Dyk, 6 Rynhardt Elstadt, 5 Pieter-Steph du Toit, 4 Chris van Zyl, 3 Frans Malherbe (captain), 2 Ramone Samuels, 1 JC Janse van Rensburg.
Replacements: 16 Bongi Mbonambi, 17 Steven Kitshoff, 18 Wilco Louw, 19 John Dave Schickerling, 20 Sikhumbuzo Notshe, 21 Justin Phillips, 22 EW Viljoen, 23 Seabelo Senatla.
Referee: Jaco van Heerden
Assistant referees: AJ Jacobs (South Africa), Cwengile Jadezweni (South Africa)
TMO: Marius Jonker (South Africa)
Lions v Sunwolves
(Ellis Park, Johannesburg – Kick-off: 17.15; 15.15 GMT; 00.15 Japan time, Sunday, July 2)
Lions coach Johan Ackermann understands the importance of his team finishing the 2017 Super Rugby regular season in first place on the table.
The 2016 Super Rugby runners-up find themselves in a similar position to where they were in 2016 – second position on the standings, with 56 points from 13 matches played (12 wins).
The Lions only loss during the 2017 Super Rugby tournament came in round three against the Jaguares, (lost 24-36 in Buenos Aires) the same opposition who prevented the Lions from finishing the 2016 Super Rugby regular season in first place.
In 2016 the Lions breezed through their quarterfinal and semifinal matches, which were both played in Johannesburg – defeating the seven-time Super Rugby champions, the Crusaders, and 2015 Super Rugby champions the Highlanders en route to a meeting with the Hurricanes in the Final, which the Lions lost 3-20 in Wellington.
With only two games of the regular season left to play and trailing the unbeaten Crusaders by seven points, Ackermann has given his team an objective of finishing ahead of the Crusaders and securing top spot – which would ensure that the Lions get a home Final should they win their respective quarterfinal and semifinal matches.
"Hopefully we will get the momentum back soon and for our campaign this is quite important just to get back as a team, but also to keep that momentum and keep the pressure on the Crusaders," Ackermann said.
Ackermann added that the Lions will continue playing an expansive brand of rugby and put in a committed effort on the field in order to ensure that they collect maximum points from their remaining two games and therefore challenge the Crusaders for first place on the table.
"The way we've got it is that points difference is not going to play a role, we either going to be one or two.
"If we keep our side clean and we win then we going to challenge for that top spot. If the Crusaders keep winning then we are going to end second, but it doesn't looks like we are going to end on the same log points as them.
"Our main objective is still to score tries and to play an exciting brand and hopefully that will keep points going, but we not too worried about the log at this stage," Ackermann explained.
Previous result:
2016: Lions won 26-13, Tokyo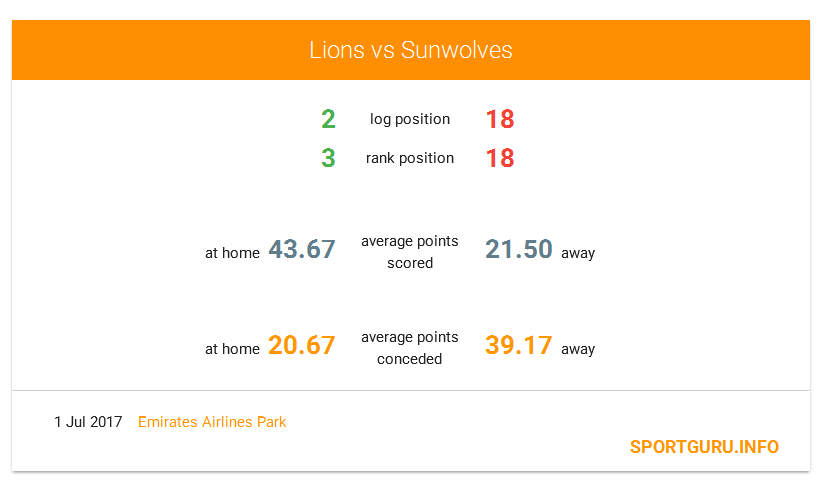 Prediction: The Lions won the only previous encounter between these teams, scoring exactly twice as many points as the Sunwolves in both halves (12-6 at half-time, 26-13 at full-time). The Lions have won their last 12 games on home turf, only once in Super Rugby history has any South African team won more home games in a row (Bulls, 20 wins from 2008 to 2010). The Sunwolves still search for their first win away from home, having lost from 13 attempts thus far, though each of their last two road games have seen them fall by a margin of just seven points. The Lions' 20 tries in the final quarter of games this season is the second-most of any team behind the Hurricanes (26), while they've also conceded a league-low three tries in the same period. Shota Emi has played three games away from home for the Sunwolves this season, either scoring or assisting a try once in each of those fixtures (two tries, one assist in total). It is just a case of by how much the Lions will win. We feel it will be by 50 points or more – but only if the Lions are clinical in their execution.
Teams:
Lions: 15 Andries Coetzee, 14 Ruan Combrinck, 13 Lionel Mapoe, 12 Harold Vorster, 11 Courtnall Skosan, 10 Elton Jantjies, 9 Ross Cronjé, 8 Ruan Ackermann, 7 Albertus Smith, 6 Jaco Kriel (captain), 5 Francois Mostert, 4 Andries Ferreira, 3 Ruan Dreyer, 2 Malcolm Marx, 1 Jacques van Rooyen.
Replacements: 16 Armand van der Merwe, 17 Corné Fourie, 18 Johannes Jonker, 19 Lourens Erasmus, 20 Cyle Brink, 21 Francois de Klerk, 22 Jacques Nel, 23 Sylvian Mahuza.
Sunwolves: 15 Yasutaka Sasakura, 14 Takaaki Nakazuru, 13 Ryohei Yamanaka, 12 Derek Carpenter, 11 Teruya Goto, 10 Jumpei Ogura, 9 Keisuke Uchida, 8 Willem Britz (captain), 7 Shokei Kin, 6 Yoshitaka Tokunaga, 5 Kotaro Yatabe, 4 Sam Wykes, 3 Yasuo Yamaji, 2 Atsushi Sakate, 1 Matasaka Mikami.
Replacements: 16 Takeshi Hino, 17 Koki Yamamoto, 18 Takuma Asahara, 19 Uwe Helu, 20 Malgene Ilaua, 21 Kaito Shigeno, 22 Rikiya Matshuda, 23 Kotaro Mathushima.
Referee: Egon Seconds (South Africa)
Assistant referees: Rasta Rasivhenge, Archie Sehlako
TMO: Shaun Veldsman
Compiled by Jan de Koning
@king365ed
@rugby365com
* Additional reporting by Josh Isaacson
@isaacson_j
* Statistics provided by Opta Sports & sportguru.info
PV: 2