Thu 6 Jul 2017 | 08:43
SR PREVIEW: ROUND 16, PART TWO
SHARE
The Kings, fresh from their impressive win over the Jaguares last week, head to Loftus Versfeld in Pretoria in the hope of improving on what is already their best ever position in the competition.
At the start of the season nobody would have given the Kings a snowball's hope of finishing inside the top 15 – given that they finished last in a 15-team competition in 2013 and 17th in the 18-team tournament last year.
Standing in their way of a top 10 position is a Bulls team equally determined to make up for recent disappointments and also coming off a morale-boosting victory.
The day's action starts when the Waratahs host the Jaguares – both playing for nothing but pride and both having had less than inspiring seasons.
Then follows the Bulls versus King, before the Stormers host the hapless Sunwolves.

In Part Two of the preview we look at the Saturday matches!
Saturday, July 8:
Waratahs v Jaguares
(Allianz Stadium, Sydney – Kick-off: 19.40; 09.40 GMT; 06.40 Argentina time)
To suggest they have been underperforming would be to state the obvious.
The Waratahs – one of the pre-season favourites to win the Australian conference, given the quality of their roster – have won just four of their 13 matches this season.
The Jaguares, who also started with hope of winning a conference, Africa Two – given they can field almost the entire Argentinean national team – have won just five matches.
Their common opponents that knocked them over are the South African trio of the Lions, Sharks and Southern Kings.
It appears the Kings defeat is the one that hurts most.
Waratahs coach Daryl Gibson readily admits the loss to the Kings in April left the biggest scars.
"That [Kings match] was obviously a really low point in the season," Gibson told the Sydney Morning Herald.
"We certainly don't want to have a repeat performance of that.
"We've spoken about how important it is for us to finish well and leave a legacy for next year's team.
"We cannot afford to go into next season with poor momentum.
"I really believe the bones of next year's team is here and we need to finish off the season the way we want to start next season."
He knows the Jaguares will have the same scars, give they were equally dismal in going down to the Kings last week.
"They've got nothing to lose," Gibson said of their Argentinean opponents.
"They'll be a desperate team and that makes it even more dangerous in the fact that they'll probably throw the ball around a bit more."
Previous results:
These teams have never met before.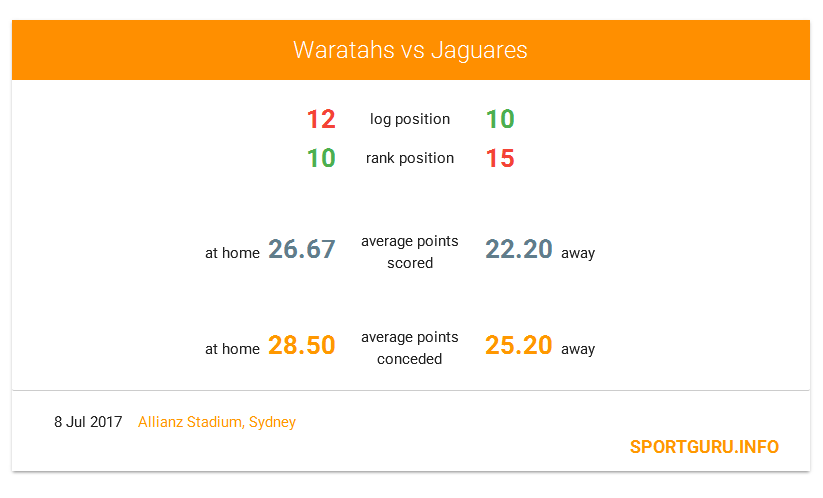 Prediction: This will be the first meeting between the Waratahs and Jaguares in Super Rugby, though the Argentine side have won one of their previous three games against Australian opposition. The Waratahs have lost their last 10 games in a row against teams from outside Australia, their longest ever drought in such fixtures; the last time they beat a team from outside their home nation was in Round 15 last season -against the Sunwolves. The Waratahs have scored seven tries after opting to take a penalty tap, three more than any other team in the competition this season. The Jaguares are the most penalised team in the competition this season, conceding an average of 11.4 infractions per game. Fresh off a stint with the Wallabies, Israel Folau returns to the Super Rugby having scored five tries in his last four games as well as four in his last two at home. Does anybody, other than the two teams, really care? Maybe a few hundred fans on either side of the ocean. If we have to risk what is left of out fragile reputation, we will say the Waratahs will win by nine points – only because they have home ground advantage.
Teams:
Waratahs: 15 Israel Folau, 14 Bryce Hegarty, 13 Rob Horne, 12 David Horwitz, 11 Cam Clark, 10 Bernard Foley, 9 Jake Gordon, 8 Michael Wells, 7 Michael Hooper (captain), 6 Jack Dempsey, 5 Dean Mumm, 4 Ned Hanigan, 3 Sekope Kepu, 2 Tolu Latu, 1 Tom Robertson.
Replacements: 16 Damien Fitzpatrick, 17 Paddy Ryan, 18 Angus Ta'avao, 19 David McDuling, 20 Ryan McCauley, 21 Matt Lucas, 22 Taqele Naiyaravoro, 23 Andrew Kellaway.
Jaguares: 15 Joaquín Tuculet, 14 Matías Moroni, 13 Matías Orlando, 12 Jerome de la Fuente, 11 Emiliano Boffelli, 10 Nicolás Sánchez, 9 Martín Landajo, 8 Leonardo Senatore, 7 Juan Manuel Leguizamón, 6 Pablo Matera, 5 Benjamin Macome, 4 Guido Petti, 3 Enrique Pieretto, 2 Agustin Creevy (captain), 1 Nahuel Tetaz Chaparro.
Replacements: 16 Julián Montoya, 17 Santiago García Botta, 18 Ramiro Herrera, 19 Ignacio Larrague, 20 Rodrigo Báez, 21 Gonzalo Bertranou, 22 Joaquín Díaz Bonilla, 23 Santiago Cordero.
Referee: Ben O'Keeffe (New Zealand)
Assistant referees: Angus Gardner (Australia), Jordan Way (Australia)
TMO: Ian Smith (Australia)
Bulls v Southern Kings
(Loftus Versfeld, Pretoria – Kick-off: 17.15; 15.15 GMT)
Two teams who have some great results, but were not consistent enough to be real contenders.
What is significant is that both have a chance of a top 10 finish, which will be a delightful finish to a disappointing season.
Bulls coach Nollis Marais said the team is determined to finish well at home.
"The result [a 30-17 win over the Sharks] away from home last weekend was a huge relief," Marais said.
"We came close a number of times on the road, but never played as convincingly as last weekend.
"The challenge will be to repeat that performance at home.
"We have not offered our support base at Loftus much to cheer about this year, especially by losing our last three matches at home.
"We now have two more chances to get it right."
Kings coach Deon Davids also spoke of the "importance" of finishing the season on a high note.
He said his side was expecting a tough encounter against a determined Bulls outfit.

"The Bulls showed what they are capable of in last week's match against the Sharks," Davids said.

"The Bulls will always remain one of the top sides in South African . There will never be an easy match against the Bulls, especially when they are playing at home at Loftus Versfeld.

"We will need to do our basics right and ensure that we are clinical, particularly in the set pieces – which is a strong area for the Bulls."
The Kings – returning from their impressive win over the Jaguares in Argentina – based themselves at a holiday resort in the North-West town of Rustenburg.
Davids said their focus was on improving areas where they felt we could have been better last week.
"Saturday's match promises to be an exciting occasion with both sides eager to get a good result going into the last week of the competition."
Previous results:
2016: Bulls won 38-6, Port Elizabeth
2013: Bulls won 48-18, Pretoria
2013: Bulls won 34-0, Port Elizabeth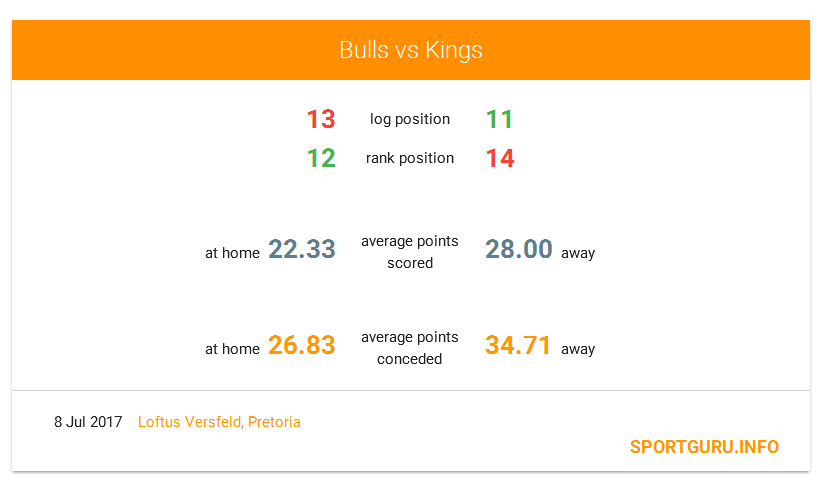 Prediction: The Bulls have won all three previous meetings between these sides, scoring a combined 120 points in those matches and conceding just 24 in reply. The Bulls have lost each of their last three games at home, the last time they went longer without a home win was a nine-game drought from 2001 to 2003. The Kings have conceded more than 50 points in four of their last five away games against fellow South African teams, losing by an average margin of 33 points per game across that span. The Kings have scored just one try once they've held possession for seven or more phases this season, at least three fewer than any other team in the competition. The Bulls are one of only three teams (Sharks, Jaguares) boasting more than one player to have kicked a goal from beyond the halfway line this season (Handré Pollard, Tiaan Schoeman). The Kings do have a very good chance of winning and nobody will laugh at you if you wager some of your hard-earned money on them. However, we think the Bulls – at home – will have the edge and win by 12 points.
Teams:
Bulls: 15 Warrick Gelant, 14 Travis Ismaiel, 13 Jesse Kriel, 12 Jan Serfontein, 11 Duncan Matthews, 10 Tian Schoeman, 9 Rudy Paige, 8 Nic de Jager, 7 Jannes Kirsten, 6 Ruan Steenkamp, 5 Rudolph Snyman, 4 Jason Jenkins, 3 Conrad van Vuuren, 2 Adriaan Strauss (captain), 1 Lizo Gqoboka.
Replacements: 16 Jaco Visagie, 17 Pierre Schoeman, 18 John-Roy Jenkinson, 19 Ruben van Heerden, 20 Shaun Adendorff, 21 Andre Warner, 22 Tinus de Beer, 23 Burger Odendaal.
Southern Kings: 15 Malcolm Jaer, 14 Wandile Mjekevu, 13 Berton Klaasen, 12 Luzuko Vulindlu, 11 Makazole Mapimpi, 10 Lionel Cronje (captain), 9 Louis Schreuder, 8 Andisa Ntsila, 7 Tyler Paul, 6 Chris Cloete, 5 Lubabalo Mtyanda, 4 Irne Herbst, 3 Ross Geldenhuys, 2 Michael Willemse, 1 Mzamo Majola.
Replacements: 16. Martin Bezuidenhout, 17. Schalk Ferreira, 18. Dayan van der Westhuizen, 19. Mzwanele Zito, 20. Thembelani Bholi, 21. Stefan Ungerer, 22. Masixole Banda, 23. Yaw Penxe.
Referee: Federico Anselmi (Argentina)
Assistant referees: Marius van der Westhuizen (South Africa), Rasta Rasivhenge (South Africa)
TMO: Johan Greeff (South Africa)
Stormers v Sunwolves
(Newlands, Cape Town – Kick-off: 19.30; 17.30 GMT; 02.30 Sunday, July 9 Japan Time)
The big question, this week, was wether the Stormers can come close to matching the Lions' 87-point winning margin over the Sunwolves.
Cape Town-born Sunwolves captain Willem Britz said they will never play that badly again.
"Last week was a really bad game for us, but that is not the reflection of how the season went," said Britz, who is looking to qualify – through residency – to play for Japan when they host the 2019 World Cup.
"I really think we had a very good season.
"The boys know what to do and we have worked really hard for especially early part of this week mentally and physically just to get everything right and get the process right to make a better performance.
"I thinks the boys are ready and they are also enjoying Cape Town which is a great place in terms of food, weather, scenery and I think it is a really good experience.
"I was born in Cape Town so it is really good to be back.
"We are really looking forward for this week's game."
He described the Stormers are a "very tough" side to play, especially at Newlands.
"No matter how you play throughout the season it is a really hard place to play.
"We will really have to perform our best and keep 100 percent for everything. The boys know what is needed from them and they are working hard to get there."
Stormers captain Siyamthanda Kolisi said their next two matches – against the Sunwolves and Bulls are 'preparation' for the play-offs.
"The focus is on us now going forward and we just got to work on everything we want to work on and focus on each game, but mostly the focus is on us building going into the play-offs," Kolisi said.
"We are prepared for the Sunwolves as we are for any other team.
"We have our plans for them but obviously, we are planning going forward as well.
"We are going to play the way we approach any game. We are going to go flat out as usual. We are not holding back for any games.
"As you can see this is the strongest team we have. We are obviously showing respect to them as well, but the main focus is on us."

Previous results:
2017: Stormers won 44-31, Singapore
2016: Stormers and Sunwolves drew 17-all, Singapore
2016: Stormers won 46-19, Cape Town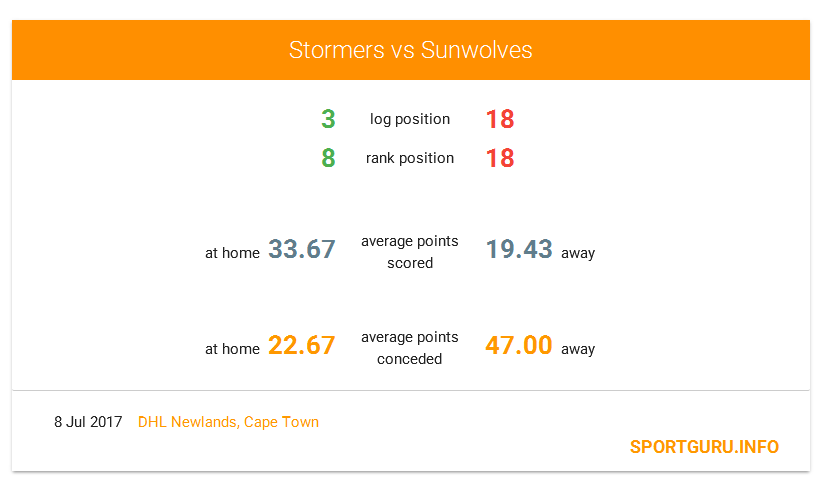 Prediction: The Stormers are undefeated in their three previous encounters with the Japanese squad, including a 46-19 win in their only previous clash in South Africa. The Stormers have won their last three games at home against teams from outside South Africa, their longest streak in such fixtures since a stretch of six straight wins from 2012 to 2013. The Stormers have 11.2 penalties awarded in their favour per game this season, more than any other team in the competition. The Sunwolves have failed to score any points in the opening halves of their last two games, and have scored more than three points in the opening half of an away fixture in only one of their last five attempts. Of players to feature more than once this season, Willie Britz has averaged the second most line-outs won per game this season (4.8, including steals), behind only the Stormers' Pieter-Steph du Toit (5.5). It won't be 90 points, but it would be a big surprise if the Stormers don't win by at least 50 points.

Teams:
Stormers: 15 Dillyn Leyds, 14 Cheslin Kolbe, 13 EW Viljoen, 12 Damian de Allende, 11 Seabelo Senatla, 10 Damian Willemse, 9 Jano Vermaak, 8 Nizaam Carr, 7 Juarno Augustus, 6 Siya Kolisi (captain), 5 Pieter-Steph du Toit, 4 Eben Etzebeth (vice-captain), 3 Frans Malherbe, 2 Bongi Mbonambi, 1 JC Janse van Rensburg.
Replacements: 16 Ramone Samuels, 17 Steven Kitshoff, 18 Wilco Louw, 19 Chris van Zyl, 20 JD Schickerling, 21 Justin Phillips, 22 Dan Kriel, 23 Bjorn Basson.
Sunwolves: 15 Riaan Viljoen, 14 Kotaro Matsushima, 13 Ryohei Yamanaka, 12 Derek Carpenter, 11 Teruya Goto, 10 Yu Tamura, 9 Keisuke Uchida, 8 Willem Britz (captain), 7 Shuhei Matsuhashi, 6 Malgene Ilaua, 5 Uwe Helu, 4 Kotaro Yatabe, 3 Takuma Asahara, 2 Takeshi Hino, 1 Koki Yamamoto.
Replacements: 16 Atsushi Sakate, 17 Masataka Mikami, 18 Koo Jiwon, 19 Yoshitaka Tokunaga, 20 Shokei Kin, 21 Kaito Shigeno, 22 Rikiya Matsuda, 23 Jumpei Ogura.
Referee: Quinton Immelman (South Africa)
Assistant referees: Shuhei Kubo (Japan), Adriaan Jacobs (South Africa)
TMO: Shaun Veldsman (South Africa)
Compiled by Jan de Koning
@king365ed
@rugby365com
* Statistics provided by Opta Sports & sportguru.info
PV: 2