Thu 13 Jul 2017 | 10:43
SR PREVIEW: ROUND 17, PART TWO
SHARE
The final positions on the standings may well be decided in the last encounter – match No.135.
The Crusaders and Lions are embroiled in a final-round battle to claim the top rankings spot and home advantage throughout the Super Rugby play-offs.
The Crusaders, just two points ahead of the Johannesburg-based Lions, must beat defending champion Hurricanes to go into next week's top-eight play-offs as top seed and in the box seat to host the Final on August 5.
Should the seven-time champions stumble in Wellington on Saturday then the Lions could leapfrog them to finish top of the final-season standings if they down the Sharks in Durban later that day.
Eight teams have already qualified for the play-offs with the top four conference winners having home advantage in the first week of the play-offs against the fifth to eighth-placed wild card teams.
Only the exact final places are to be decided this weekend.
In Part Two of the preview we look at the Saturday matches!
Saturday, July 15:
Sunwolves v Blues
(Prince Chichibu Memorial Stadium, Tokyo – Kick-off: 12.00; 15.00 NZ time; 03.00 GMT)
The Sunwolves are still searching for their first win over a New Zealand franchise.
They also haven't won since Week Seven, when they knocked over the Bulls.
Sunwolves coach Filo Tiatia said they are excited that we are back home in Japan, after two heavy defeats on tour in South Africa – 7-94 yo the Lions and 15-52 to the Stormers.
"We brought some fresh legs into selection this week," Tiatia said.
"We still have a large number of injuries in the squad," he added.
Captain Willem Britz described this week's selection as a "very exciting" team.
"Some of the players will be given another shot after the Stormers game, some fresh legs will be coming in so we are really looking forward for the game," Britz said of the visit by the Blues.
"Our preparation is going really well. We will focus on our strong points, our attacking game and fix some things on defence.
"Also this is the last game of the season. I really hope it will be a full crowd at Prince Chichibu Memorial Stadium. I really just want to go out there and thank the supporters for the support throughout the whole season by playing good rugby."
Blues coach Tana Umaga said he is expecting a lively and challenging match.
"It is clearly a challenge to come back after a four-week break for a one-off game, as the Sunwolves have had two games in South Africa," Umaga said.
"We know the conditions will be tough but we have prepared as well as possible for that.
"We have a number of players who will be in a Blues jersey for the final time and we want to honour them, as well as honour the Sunwolves in our first time in Japan by selecting our best possible team and playing good Blues rugby."
Previous results:
These teams have never met before.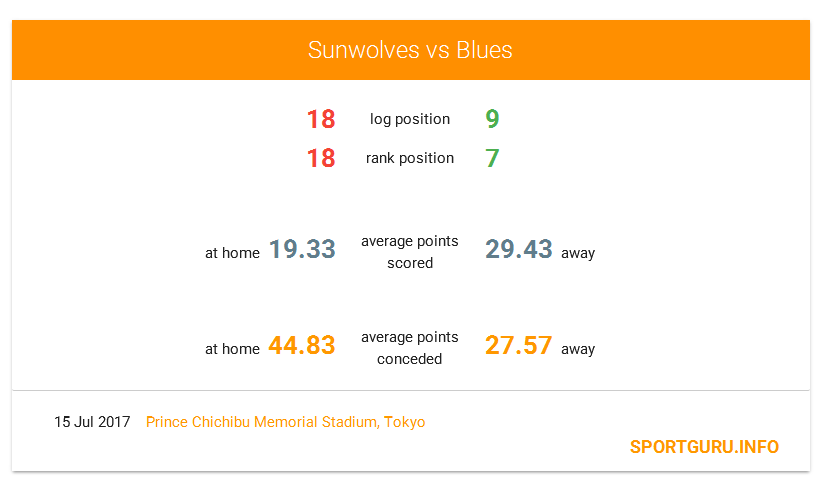 Prediction: The Blues will become only the second New Zealand team to visit the Sunwolves in Super Rugby history, after the Hurricanes blew them away 83-17 in the opening round of this season. The Blues have led at half-time in each of their last five games away from home, though they've gone on to win only two of those games. The Sunwolves have crossed the whitewash at least once in each half of five of their last six games on home turf. The Blues boast a ruck success rate of 96% so far this campaign, the best of any team in the competition. Only one of the Sunwolves' last seven tries has been scored by a back, and the last time a back from the Japanese franchise scored a try on home turf was in Round Seven this season. The Blues will win, by plenty – 35 points or more.
Teams:
Sunwolves: 15 Riaan Viljoen, 14 Kotaro Matsushima, 13 William Tupou, 12 Timothy Lafaele, 11 Kenki Fukuoka, 10 Yu Tamura, 9 Keisuke Uchida, 8 Willem Britz, 7 Shuhei Matsuhashi, 6 Malgene Ilaua, 5 Uwe Helu, 4 Kotaro Yatabe, 3 Koo Jiwon, 2 Takeshi Hino, 1 Koki Yamamoto.
Replacements: 16 Yusuke Niwai, 17 Keita Inagaki, 18 Yasuo Yamaji, 19 Yuya Odo, 20 Yoshitaka Tokunaga, 21 Kaito Shigeno, 22 Jumpei Ogura, 23 Ryohei Yamanaka.
Blues: 15 Michael Collins, 14 Matt Duffie, 13 George Moala, 12 TJ Faiane, 11 Melani Nanai, 10 Ihaia West, 9 Augustine Pulu, 8 Steven Luatua, 7 Blake Gibson, 6 Akira Ioane, 5 Scott Scrafton, 4 Gerard Cowley-Tuioti, 3 Charlie Faumuina, 2 James Parsons (captain), 1 Ofa Tu'ungafasi.
Replacements: 16 Hame Faiva, 17 Pauliasi Manu, 18 Sione Mafileo, 19 Josh Goodhue, 20 Jerome Kaino, 21 Sam Nock, 22 Stephen Perofeta, 23 Rene Ranger.
Referee: Rasta Rasivhenge (South Africa)
Assistant referees: Akihisa Aso (Japan), Tasuku Takawahara (Japan)
TMO: Minoru Fuji (Japan)
Chiefs v Brumbies
(Waikato Stadium, Hamilton – Kick-off: 17.15; 15.15 AEST; 05.15 GMT)
The result of the game will ultimately decide the Chiefs' quarterfinals opponent.
Currently there are two scenarios.
The preferred outcome will see the Chiefs pack their bags next Wednesday for Canberra, for a return encounter with Australia's best Super Rugby side, the Brumbies.
The appeal of this scenario is solely due to the reduced travel time. To secure this, the Chiefs must defeat the Brumbies this weekend and in the later game, the Crusaders must draw with or beat the Hurricanes.
The second scenario sees the Chiefs depart for Cape Town a mere seven hours after their match this Saturday to play the Stormers.
They have their destiny in their own hands, facing up to an underwhelming Brumbies side – that last week lost to the reds and have a meagre 50 percent success rate this season.
If it wasn't for the ridiculous conference system, the Brumbies would not have been in the play-offs.
Despite the negativity surrounding the Australian franchises' dismal form this season, Brumbies scrumhalf Tomas Cubelli believe they can put together a quality performance when it matters most.
Throughout the campaign a feeling of togetherness and trust has permeated through the team.
Win or lose, the message has been that the team is in it together.
With the Chiefs sitting third in the New Zealand conference and sixth overall, the two sides could potentially meet a week later in Canberra for the quarterfinal.
Recent results:
2016: Chiefs won 48-23, Canberra
2015: Chiefs won 19-17, New Plymouth
2014: Brumbies won 32-30, Canberra (play-off match)
2014: Brumbies 41-23, Canberra
2013: Chiefs won 27-22, Hamilton (Final)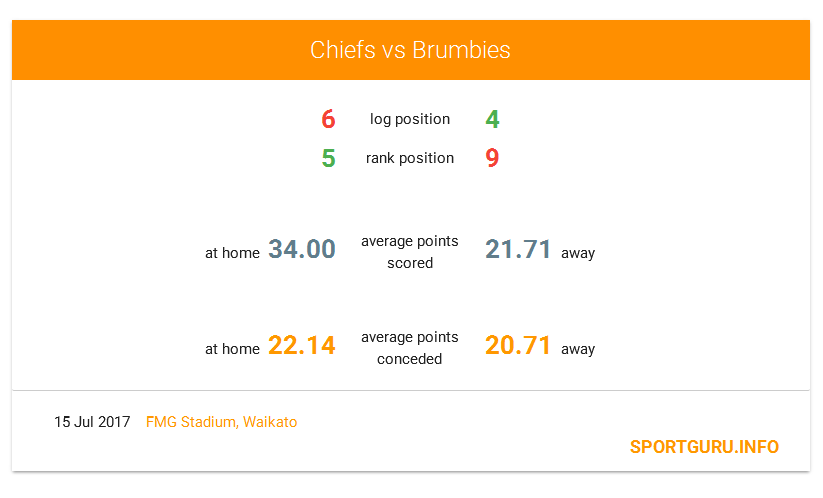 Prediction: The Chiefs have won four of their last six games against the Brumbies, and will be looking for three victories in a row against the team from the Australian capital for the first time in Super Rugby history. The Chiefs have won each of their last four games when hosting the Brumbies, though they've allowed them a losing bonus point on each occasion. The Chiefs have won nine of their last 10 games against Australian opposition, and haven't lost to an Australian team when playing at home since 2014. The Brumbies have lost on their last eight visits to New Zealand by an average margin of 15 points, last winning in Round Four, 2014 against the Hurricanes. The Canberra squad have been kept tryless in the opening half of three of their last six games, scoring only five tries in total across that span. The Brumbies, when they get it right, can make life unpleasant for the best teams. However, the Chiefs should ease to victory by 15 points.
Teams:
Chiefs: 15 Damian McKenzie, 14 Solomon Alaimalo, 13 Alex Nankivell, 12 Charlie Ngatai, 11 James Lowe, 10 Aaron Cruden (captain), 9 Tawera Kerr-Barlow, 8 Michael Leitch, 7 Lachlan Boshier, 6 Liam Messam, 5 Mitchell Brown, 4 Michael Allardice, 3 Nepo Laulala, 2 Nathan Harris, 1 Kane Hames.
Replacements: 16 Liam Polwart, 17 Aidan Ross, 18 Atu Moli, 19 Tom Sanders, 20 Mitchell Karpik, 21 Finlay Christie, 22 Stephen Donald, 23 Shaun Stevenson.
Brumbies: 15 Jordan Jackson-Hope, 14 Henry Speight, 13 Nigel Ah Wong, 12 Andrew Smith, 11 James Dargaville, 10 Wharenui Hawera, 9 Tomas Cubelli, 8 Lolo Fakaosilea, 7 Jarrad Butler, 6 Scott Fardy (captain), 5 Blake Enever, 4 Tom Staniforth, 3 Leslie Leulua'iali'i-Makin, 2 Robbie Abel, 1 Nic Mayhew.
Replacements: 16 Josh Mann-Rea, 17 Scott Sio, 18 Ben Alexander, 19 Ben Hyne, 20 Tom Cusack, 21 Jordan Smiler, 22 Ryan Lonergan, 23 Tom Banks.
Referee: Ben O'Keeffe (New Zealand)
Assistant referees: Richard Kelly (New Zealand), Cam Stone (New Zealand)
TMO: Ben Skeen (New Zealand)
Hurricanes v Crusaders
(Westpac Stadium, Wellington – Kick-off: 19.35; 07.35 GMT)
The match of the weekend – for many reasons.
The Hurricanes and Crusaders wrap up the league stages of their Super Rugby campaigns with a blockbuster New Zealand Conference derby.
With the Crusaders undefeated in 2017, the Hurricanes face a huge test heading into the Super Rugby play-offs in what could be their final home match of the year.
When the two teams met in Round 12 in Christchurch earlier this year, the final score saw the Crusaders come out on top 20-12, but the Hurricanes have got everything to play for this week as the quarter finals approach.
A win would likely see the Hurricanes head to Canberra to play the Brumbies, while a loss would probably see them head to South Africa to play the Stormers in Cape Town.
The Hurricanes recalled All Blacks Thomas Perenara, Beauden Barrett and Ardie Savea in the only changes to the team that started during last month's 31-all1 draw with the touring British and Irish Lions.
In contrast the Crusaders have opted to rest some key All Blacks – the front trio of Joe Moody, Codie Taylor and Owen Franks – on 'medical advice'.
The Crusaders are vying to retain their unbeaten Super Rugby record and ensure they finish top of the regular season ladder, giving them home advantage throughout the play-offs.
Defeat could see the Lions overtake them and could result in as trip to South Africa for the Final next month.
The Hurricanes and Crusaders have met 30 times in Super Rugby since 1996.
The Hurricanes have won 10 times, the Crusaders 18, and two matches have been drawn.
The Hurricanes have scored 85 tries so far in 2017, a Super Rugby record.
Recent results:
2017: Crusaders won 20-12, Christchurch
2016: Hurricanes won 35-10, Christchurch
2015: Crusaders won 35-18, Christchurch
2015: Hurricanes won 29-23, Wellington
2014: Hurricanes won 16-9, Wellington
2014: Hurricanes won 29-26, Christchurch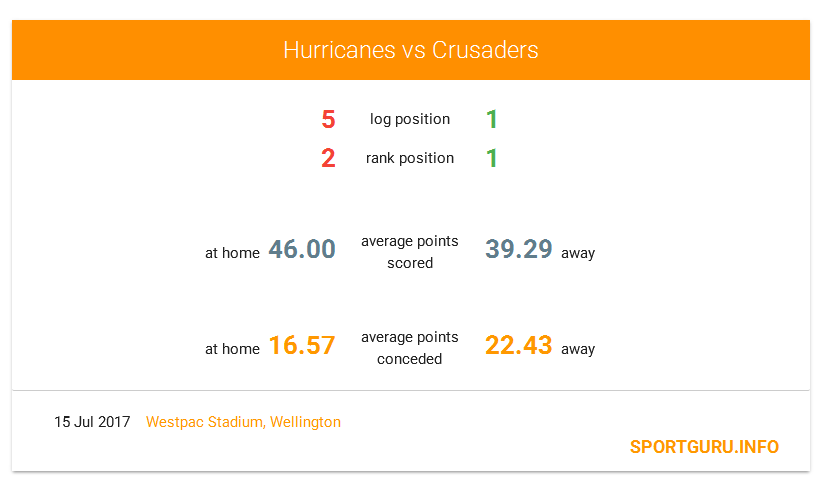 Prediction: This will be the first time since 2015 that the Hurricanes have hosted the Crusaders, with the Wellington side winning each of their last three such fixtures. The Crusaders hunt for their 15th win of the campaign, which would equal the Super Rugby record for the most wins by a team in a single season (including play-offs). In fact, anything more than a loss for the Crusaders would see them become just the third team in Super Rugby history to progress undefeated through the regular season (Blues 1997, Crusaders 2002). The Hurricanes will be looking to avoid consecutive Super Rugby losses on home turf for the first time since Round Four, 2014 after a 17-14 loss to the Chiefs prior to the international break. The Crusaders kept the Hurricanes tryless when they met in Round 12 this season, the only team to keep the Wellington franchise from breaching their line in the last three years. The Hurricanes do have a realistic chance to knock over the Crusaders, but the smart money is on the Crusaders to win by five points.
Teams:
Hurricanes: 15 Jordie Barrett, 14 Nehe Milner-Skudder, 13 Vince Aso, 12 Ngani Laumape, 11 Julian Savea, 10 Beauden Barrett, 9 Thomas Perenara (captain), 8 Brad Shields, 7 Ardie Savea, 6 Vaea Fifita, 5 Sam Lousi, 4 Mark Abbott, 3 Jeff To'omaga-Allen, 2 Ricky Riccitelli, 2 Ben May.
Replacements: 16 James O'Reilly, 17 Chris Eves, 18 Loni Uhila, 19 Reed Prinsep, 20 Callum Gibbins, 21 Te Toiroa Tahuriorangi, 22 Wes Goosen, 23 Cory Jane.
Crusaders: 15 Israel Dagg, 14 Seta Tamanivalu, 13 Jack Goodhue, 12 David Havili, 11 George Bridge, 10 Richie Mo'unga, 9 Bryn Hall, 8 Kieran Read, 7 Matt Todd (captain), 6 Jordan Taufua, 5 Scott Barrett, 4 Luke Romano, 3 Michael Alaalatoa, 2 Ben Funnell, 1 Wyatt Crockett.
Replacements: 16 Andrew Makalio, 17 Tim Perry, 18 Oliver Jager, 19 Samuel Whitelock, 20 Jed Brown, 21 Mitchell Drummond, 22 Mitchell Hunt, 23 Sean Wainui.
Referee: Glen Jackson (New Zealand)
Assistant referees: Brendon Pickerill (New Zealand), Angus Mabey (New Zealand)
TMO: Glenn Newman (New Zealand)
Western Force v Waratahs
(nib Stadium, Perth – Kick-off: 17.45; 19.45 AEST; 09.45 GMT)
Waratahs coach Daryl Gibson, with his future in Sydney in doubt, had to douse the flames fanned by rumours that he has a player revolt on his hands.
Gibson fronted up to the media and said the players are "determined" to play at their best to win the match.
"We're firmly focused on delivering and our focus doesn't extend beyond that, making sure that we finish off well," Gibson said.
In contrast Force coach Dave Wessels had the 'luxury' of being able to talk about on-field issues for a change – despite his team's uncertain future.
Wessels said the team is determined to finish the season strong and send Matt Hodgson out on a winning note.
The loose forward is walking off into the retirement sunset after the match in Perth.
"Saturday's game will be special for both Hodgo [Hodgson] and the franchise," Wessels said.
"He's given everything to the cause over a long career and we hope the Sea of Blue will help us give him the send-off he deserves."
Waratahs assistant coach Chris Malone spoke of the passion of the Force players that will confront the Tahs.
"They had a good game against the Rebels last week," Malone said, adding: "It was abrasive, it was attritional, it wasn't a walk over of any sorts.
"They're very direct in terms of the way they play, they run hard and they will try to take us on through the middle which is an area we need to get better at.
Recent results:
2017: Waratahs won 19-13, Sydney
2016: Waratahs won 49-13, Perth
2015: Force won 18-11, Perth
2015: Force won 25-13, Sydney
2014: Force won 28-16, Perth
2014: Waratahs won 43-21, Sydney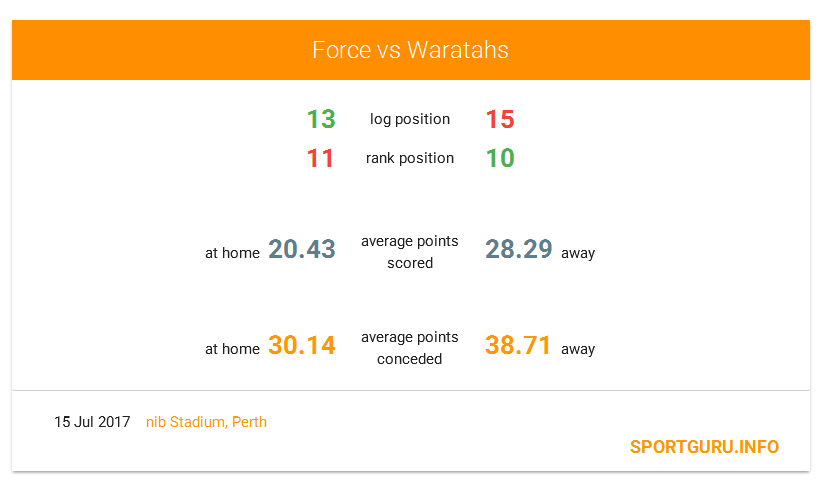 Prediction: The Waratahs have won their last two games against the Force, restricting them to just 13 points on each occasion. This will be the first time that the Western Force have finished their season on home soil since a 21-15 win against the Brumbies in 2013. The Waratahs have won their last four games away from home within Australia, including wins after trailing at half-time in each of their last two such fixtures. The Western Force are one of only four teams in the competition to have not had their opposition steal a scrum this season (also Bulls, Crusaders, Sharks). Bernard Foley has scored an average of 11.9 points per game so far this season, the second most of any player in the competition behind Curwin Bosch 12.7). If there is one team that often trouble the Waratahs it is the Western Force – who will rely on raw emotion to secure a win – by nine points.
Teams:
Western Force: 15 Dane Haylett-Petty, 14 Marcel Brache, 13 Curtis Rona, 12 Bill Meakes, 11 Alex Newsome, 10 Peter Grant, 9 Michael Ruru, 8 Isi Naisarani, 7 Matt Hodgson (captain), 6 Ross Haylett-Petty, 5 Adam Coleman, 4 Matt Philip, 3 Tetera Faulkner, 2 Tatafu Polota-Nau, 1 Pek Cowan.
Replacements: 16 Anaru Rangi, 17 Francois van Wyk, 18 Shambeckler Vui, 19 Lewis Carmichael, 20 Richard Hardwick, 21 Ian Prior, 22 Jono Lance, 23 James Verity-Amm.
Waratahs: 15 Israel Folau, 14 Taqele Naiyaravoro, 13 Rob Horne, 12 David Horwitz, 11 Cam Clark, 10 Bernard Foley, 9 Jake Gordon, 8 Michael Wells, 7 Michael Hooper (captain), 6 Jack Dempsey, 5 Dean Mumm, 4 Ned Hanigan, 3 Sekope Kepu, 2 Damien Fitzpatrick, 1 Tom Robertson.
Replacements: 16 Hugh Roach, 17 David Lolohea, 18 Angus Ta'avao, 19 David McDuling, 20 Ryan McCauley, 21 Nick Phipps, 22 Mack Mason, 23 Andrew Kellaway.
Referee: Nic Berry (Australia)
Assistant referees: Will Houston (Australia), Graham Cooper (Australia)
TMO: Ian Smith (Australia)
Bulls v Stormers
(Loftus Versfeld, Pretoria – Kick-off: 15.05; 13.05 GMT)
Once the biggest game of the season, this north-south derby is no longer big, nor does it come with the build-up that would fill a stadium.
While the Stormers have plenty to play for – momentum ahead of the play-offs – the Bulls are playing just for pride.
There is some additional motivation.
Bulls coach Nollis Marais will vacate his seat after the match, with New Zealander John Mitchell set to formally take over as 'Executive of Rugby' on Sunday.
Marais said he tried to remove the emotion and focus on the rugby.
"I think it was quite a good week," Marais said.
"I just sat down on Monday and said to the guys: 'Obviously it's not what we planned for in the season, we let the fans down'.
"Obviously there's change coming and we've let the fans down – it's not nice and it's not the greatest feeling in the world.
"However, we want to finish off strong and make sure that we make people proud on Saturday, by playing good rugby.
"We are going to do our outmost to win the game on Saturday. It is still a derby game and as I said to the guys, I started against the Stormers and I finish against the Stormers."
Stormers captain Siyamthanda Kolisi said their focus was on their own game, rather than the developments in the Bulls camp.
They have bigger goals ahead.
"Our main focus is to get momentum for [the quarterfinal against a New Zealand team] next week," Kolisi said.
"The things that we wanted to work on, which I am not going to mention, is just simple stuff and us just controlling the game more.
"We can afford to allow whoever we are playing against pull us in and play the way they want us to play.
"We are going to work on our strong points and just focus on our things."
Recent results:
2017: Stormers won 37-24, Cape Town
2016: Bulls won 17-13, Pretoria
2016: Stormers won 33-9, Cape Town
2015: Stormers won 15-13, Cape Town
2015: Stormers won 29-17, Pretoria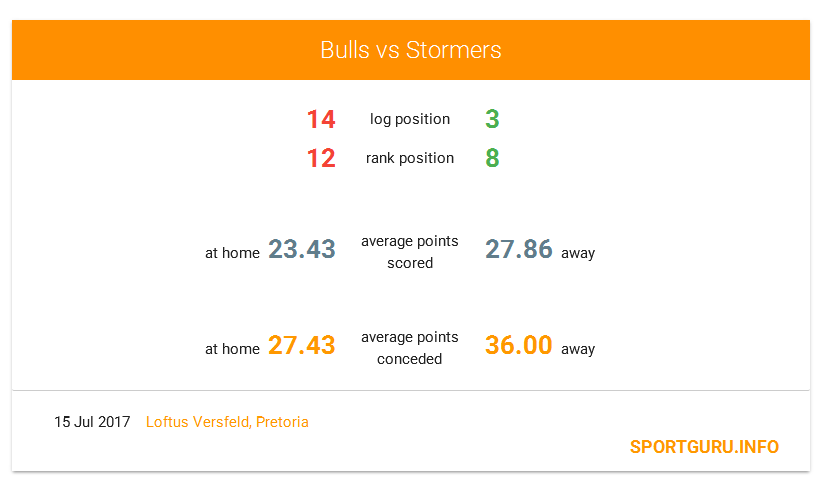 Prediction: The Stormers have won eight of their last 11 games against the Bulls, including five of their last six, though each of their losses in that period has come on the road. A tight 40-34 win against the Cheetahs in Round 15 sees the Stormers searching for back-to-back wins away from home against South African opposition for the first time since early 2015. The Bulls have now gone four games at home without victory, the last time they lost more home games in succession was a run of nine losses from 2001 to 2003. The Stormers have scored 15 tries after maintaining possession for seven or more phases, four more tries than any other team in the competition and 11 more than the Bulls. Each of the Bulls' last six tries against the Stormers have been scored by backs; Deon Stegmann in 2015 was the last Bulls' forward to cross against the Cape Town side. Only die-hard fans will risk their money on a Bulls win. The Stormers will win and they will be disappointed if it is not at least 20 points.
Teams:
Bulls: 15 Warrick Gelant, 14 Travis Ismaiel, 13 Jesse Kriel, 12 Jan Serfontein, 11 Duncan Matthews, 10 Tian Schoeman, 9 Rudy Paige, 8 Nic de Jager, 7 Jannes Kirsten, 6 Shaun Adendorff, 5 Rudolph Snyman, 4 Jason Jenkins, 3 Conrad Janse van Vuuren, 2 Adriaan Strauss (captain), 1 Pierre Schoeman.
Replacements: 16 Jaco Visagie, 17 Trevor Nyakane, 18 John Roy Jenkinson, 19 Ruben van Heerden, 20 Ruan Steenkamp, 21 Piet van Zyl, 22 Tony Jantjies, 23 Burger Odendaal.
Stormers: 15 Dillyn Leyds, 14 Cheslin Kolbe, 13 EW Viljoen, 12 Damian de Allende, 11 Seabelo Senatla, 10 Damian Willemse, 9 Jano Vermaak, 8 Nizaam Carr, 7 Rynhardt Elstadt, 6 Siyamthanda Kolisi (captain), 5 Pieter-Steph du Toit, 4 Eben Etzebeth, 3 Frans Malherbe, 2 Bongi Mbonambi, 1 Jacobus Janse van Rensburg.
Replacements: 16 Ramone Samuels, 17 Steven Kitshoff, 18 Wilco Louw, 19 Chris van Zyl, 20 Sikhumbuzo Notshe, 21 Justin Phillips, 22 Juan de Jongh, 23 Dan Kriel.
Referee: Kubo Shuhei (Japan)
Assistant referees: Federico Anselmi (Argentina), Jaco van Heerden (South Africa)
TMO: Marius Jonker (South Africa)
Sharks v Lions
(Kings Park, Durban – Kick-off: 17.15; 15.15 GMT)
By the time the game kicks off, the Lions will know whether they still have a chance to finish first on the standings.
However, Lions coach Johan Ackermann said his team won't be focussed on the encounter between the Hurricanes (who can do them a huge favour) and the Crusaders earlier in the day.
It is about getting the best out of his team in this match.
Ackermann said they can't afford to get ahead of themselves.
"We have had a bye week, so it is important to get back into the process," he told rugby365.
"The Sharks in Durban is a great challenge, as we have not won there often.
"It is important that we get momentum and play good rugby."
He said that "regardless of the result", it is important that they go out as a team and play well.
"Only after the match we will worry about the play-offs.
"There may or may not be something at stake in the game [depending on what happens in the match between the Hurricanes and Crusaders earlier in the day].
"We won't know till Saturday, so my expectations of the players is to prepare for this like any other game. You can't wait till Saturday before making a call on how you want to play."
There will be a measure of "revenge" in the Sharks' approach to the match, as they are still rankled by their dramatic 29-34 loss at Ellis Park earlier this season.
"We have been looking forward to this game for some time, especially after what happened at Ellis Park where we felt we should have won, so we are definitely excited about this one," Sharks scrumhalf Cobus Reinach said.
"In that Johannesburg game it did not work out.
"Hopefully we can put in a great performance and it will go our way this time."
The Sharks can avoid a long trip to play the Crusaders in the first week of the play-offs if they beat the Lions with a bonus point and the Highlanders are upset at home by Australia's Reds.
Recent results:
2017: Lions won 34-29, Johannesburg
2016: Lions won 37-10, Johannesburg
2016: Lions won 24-9, Durban
2015: Lions won 23-21, Johannesburg
2015: Sharks won 29-12, Durban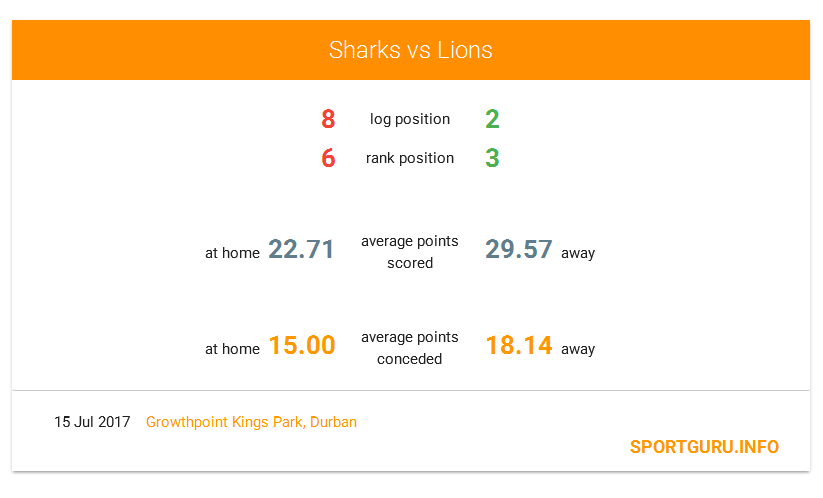 Prediction: The Lions have beaten the Sharks in each of their last four meetings, after winning just twice in 13 meetings prior. The Sharks have won their final regular season game in each of their last seven campaigns, winning their last five such fixtures by an average margin of 24 points. The Lions have now won 11 games in a row since a 12-point loss to the Jaguares in Round 3, and have scored 199 points in their last three games combined. The Sharks rely on the penalty goal more often than any other team in the competition, slotting 3.3 penalty goals per game so far this season. The Lions' Franco Mostert has stolen 13 line-outs so far this season, six more than any other player in the competition, though Sharks duo Ruan Botha (seven) and Stephan Lewies (seven) are each ranked equal second. It could get brutal, but the Lions should win – by 12 points.
Teams:
Lions: 15 Andries Coetzee, 14 Ruan Combrinck, 13 Lionel Mapoe, 12 Harold Vorster, 11 Courtnall Skosan, 10 Elton Jantjies, 9 Ross Cronjé, 8 Ruan Ackermann, 7 Albertus Smith, 6 Jaco Kriel (captain), 5 Francois Mostert, 4 Andries Ferreira, 3 Ruan Dreyer, 2 Malcolm Marx, 1 Jacques van Rooyen.
Replacements: 16 Armand van der Merwe, 17 Corne Fourie, 18 Johannes Jonker, 19 Lourens Erasmus, 20 Cyle Brink, 21 Francois de Klerk, 22 Rohan Janse van Rensburg, 23 Sylvian Mahuza.
Sharks: 15 Lwazi Mvovo, 14 Jacobus van Wyk, 13 Lukhanyo Am, 12 Andre Esterhuizen, 11 Sibusiso Nkosi, 10 Garth April, 9 Jacobus Reinach, 8 Daniel du Preez, 7 Jean-Luc du Preez, 6 Philip van der Walt (captain), 5 Stephan Lewies, 4 Etienne Oosthuizen, 3 Coenraad Oosthuizen, 2 Mahlatse Ralepelle, 1 Thomas du Toit.
Replacements: 16 Stephan Coetzee, 17 Juan Schoeman, 18 Lourens Adriaanse, 19 Jean Droste, 20 Lubabalo Mtembu, 21 Michael Claassens, 22 Curwin Bosch, 23 Jeremy Ward.
Referee: Marius van der Westhuizen (South Africa)
Assistant referees: AJ Jacobs (South Africa), Cwengile Jadezweni (South Africa)
TMO: Johan Greeff (South Africa)
Compiled by Jan de Koning
@king365ed
@rugby365com
* Statistics provided by Opta Sports & sportguru.info
PV: 2